Award for Translating Afropean French Poetry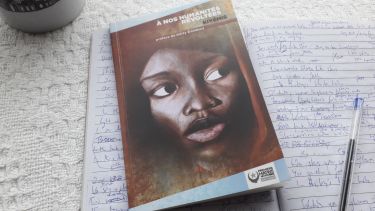 He won the award for 'Woman Displaced', a translation of 'Diasporante' by the afro-feminist francophone poet Kiyémis.
The selection panel praised the translation's 'real heft of emotion', while judge Samantha Schnee commented that:
In his translation of Afropean poet Kiyémis's 'Diasporante', […] David McCallam uses a rich array of verbs in the English language to add something new to the poem instead of opting for a literal translation of the title, which is repeated throughout the poem – a choice he made, as he puts it in his commentary, "to find a way of rendering the haunting resonance of the French term," thereby elegantly disproving the old Frostian adage that "Poetry is what gets lost in translation."
As David explains: I was introduced to Kiyémis's work by my friend, the scholar Johanna Montlouis-Gabriel. We ran a poetry reading together at the Camargo Foundation in France in March 2022 and, as part of this event, I had an initial stab at translating a few of Kiyémis's poems for an Anglophone audience. The poems come from her fascinating, militant debut collection, A Nos Humanités Révoltées. 
Interestingly, as Johanna points out, Kiyémis is one of a new generation of Afropean francophone writers who come to literature, and so poetry, via social and digital media. For more on her work, see her pioneering blog  https://lesbavardagesdekiyemis.wordpress.com/
In 2021, David published a book-length translation of poetry, drawing on his research into the history and literature of the French revolutionary period, entitled André Chénier: Poetry and Revolution 1792-1794.
His 'Al fresco flirtations' – being a translation of five poems from Paul Verlaine's Fêtes galantes (1869) – were also longlisted for this year's John Dryden Translation Competition.
The Stephen Spender Award is only the most recent proof of a much more general vitality and diversity of literary translation across the School of Languages and Cultures. 
In 2022 alone, Dr Louise Johnson published, to much acclaim, her second novel translated from Catalan, Ruth by Guillem Viladot. Dr Henriette Louwerse led a team of students of Dutch in a project to translate the graphic novel Quaco; My Life in Slavery, revealing to an Anglophone audience the extent of Dutch involvement in the trans-Atlantic slave trade. And Dr Adam Fergus translated and adapted Russian poet Marina Tsvetaeva's major work, Ratcatcher, to create a powerful piece of live theatre, in collaboration with Charlie Barnes of Dead Earnest Theatre company, as part of this year's Festival of the Mind.
Flagship institutes
The University's four flagship institutes bring together our key strengths to tackle global issues, turning interdisciplinary and translational research into real-world solutions.