Looking Back on the Languages Drama Festival 2023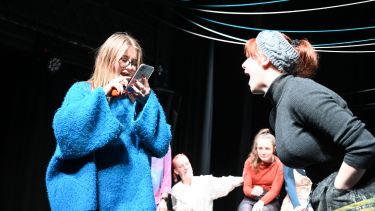 Our SLC Modern Languages Drama Festival is an annual event in which our students and staff choose and adapt, practise and perform a theatre piece in their specific languages. This year we offered shows in French, Spanish and Dutch. New for 2023 was our Translate and Reading Extravaganza on the 15 March. We brought together our SLC experienced writers and (student) translators together with practitioners from further afield for an evening of discussion and performance. The readings and translations included French, Dutch, German, Catalan, and Russian. Portuguese ran a specialist workshop.
Looking back
Producing three plays in the space of 10 days is a mighty effort, so worth looking back and asking some of the participating students and tutor to look back. 
Kom Terug (A Course of History)
The Drama Week kicked off with a bilingual performance brought by the Dutch Student Society, the NV. Kom Terug (A course of History) was written and directed by Dr Filip De Ceuster and brought together over 25 students for a vibrant one night only.
Pic-Nic by Fernando Arrabal
Next up was the Spanish production, Fernando Arrabal's Pic-nic. Pic-nic is a satirical anti-war comedy play in which Zapo, a soldier on the battlefield of the Spanish Civil War, receives a surprise visit. As Zapo settles down for a picnic on the battlefield, why should gunfire and bombs spoil an otherwise perfect Sunday afternoon?
Josephine Sennett shares her experience of directing and acting and she concludes that the hard work was more than worth it: "Performing together was beautiful".
Les Mamelles de Tirésias by Guillaume Apollinaire
Le Cercle Français (The Student French Society) opted for Les Mamelles de Tirésias by Guillaume Apollinaire. In the aftermath of war, in the Zanzi-Bar cabaret, Thérèse rebels against a society ruled by men. She publicly rejects the roles of wife and mother and transforms herself into a man – Tirésias!
Apollinaire's 'surrealist drama' caused a riot on its opening night. Thomas Farrar admits that "being part of this production has been one of the most daunting yet most worthwhile experiences of my time at university so far." Read his report here.
Translation Extravaganza!
Everybody with an interest in writing and translation was welcome during our Teach-Out Round Table Event. We brought together a panel of experienced translators who talked about their professional journey. They shared examples from their practise and we interspersed the discussion with readings from their work. Our special guest was the author Simone Atangana Bekono.
The evening was moderated by our Head of School, Professor Tom Baldwin. This event wass part of the SLC Translation Days 2023. This involved three days of events and activities around translation and interculturality. The full schedule is available here.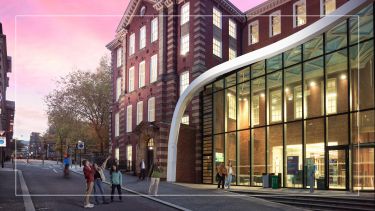 Visit us
Discover what sets Sheffield apart at our undergraduate open days on the Saturday 21 October or Saturday 18 November.