Kom Terug: Dutch Performance 2023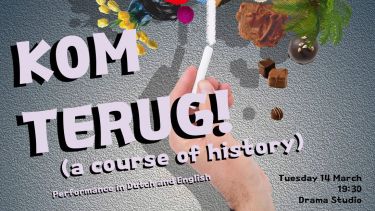 Wednesday 22 February marked the first rehearsal of KOM TERUG! (A Course of History), the highly anticipated 2023 Nederlandse Vereniging performance. This year we have set ourselves the challenge of producing our bilingual 'toneelstuk' in record time, as our final performance will take place on the 14 March 2023, as part of this year's SLC Drama Festival. Follow our progress below and order your tickets!
Kom Terug!
14 March, 7.30, Drama Studio
Performed in Dutch and English
Week 1

Week 1 of rehearsals are off to a promising start, as we're already beginning to visualise how the final production might look on stage. We began the rehearsal with a rousing "PROLOOG!" and quickly settled into the first reading of our script, which is written in both Dutch and English. Thanks to the enthusiasm and raw talent of our cast members, our humble Jessop West was temporarily transformed into a drama studio, as we began to put the play 'into space'. Our actors have already started adding their own characterisation to their roles! 

As the weeks go by, it will be interesting to see how everyone's contributions will shape the final version of our script, which is constantly evolving…

Tot volgende woensdag mensen!

Luca Smith & Mary Kate Leigh

Week 2

Despite the rain and illness amongst the cast this week, rehearsals went ahead as we completed some sort of first full run through of KOM TERUG! (A Course of History).

On Wednesday the 1st of March we took a trip through history from cave paintings to customs, now working from the third version of our original script. Without giving away too many spoilers, we can tell you that our cast proved their multilingual acting talent once more, as we even incorporated some French and German lines into the play! 

However it's not only our actors who are hard at work making the production a success, things are heating up behind the scenes too. Our band members are currently composing the music for the play, and our wardrobe department is also busy organising everyone's costumes!

To find out more, we asked Lottie Van Bochoven, one of Kom Terug's Heads of Wardrobe, about her experience being part of the 'toneelstuk':

What is your favourite part about being involved in Kom Terug?

Lottie: "My favourite part about being involved in the play is the sense of community that we have as a group, developing the scenes and rehearsing together, it's a really fun atmosphere."

What is the most challenging part of your role co-leading the costume department? 

Lottie: "The most challenging part of being Head of Wardrobe is probably putting concepts and ideas to life, the play is really creative and absurd at times, and we want that to be seen in the costumes as well."

What is your favourite costume that will feature in the play? 

Lottie: "My favourite costume of the play is probably Karel de Kale's (Charles the Bald) because Filip is really getting creative and crafty with making one aspect of it…"

Thank you to Lottie for the interview! Next week's rehearsal will be the last in Jessop West before we move to practise in the Drama Studio. Wat spannend!  

Luca Smith & Mary Kate Leigh
Explore the University
Discover why Sheffield is the right choice for you at one of our open days or events.