Modern Languages Drama Festival 2023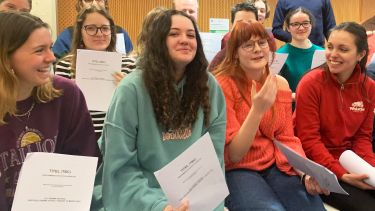 Our rehearsals are in full swing. This year's SLC Drama Festival offers three Drama Productions and one Round Table event with readings in our SLC languages. Make sure you save the dates and look out for updates.   
Our SLC Modern Languages Drama Festival is an annual event in which our students and staff choose and adapt, practise and perform a theatre piece in their specific languages. This year we offer shows in French, Spanish and Dutch. 
New for 2023 is our Translate and Reading Extravaganza on the 15 March. We will bring together our SLC experienced writers and translators together with practitioners from further afield for an evening of discussion and performance. This will include at least French, Dutch, German, Catalan, and Russian.
14th March: Dutch

Kom terug! (A Course of History)

If history is the Mother of Wisdom, then KOM TERUG! is one of her lovely bastard children. It's sneering, it's illustrated, and it's (in)accurate. Think disillusioned dinosaurs, prehistoric painters, spying smugglers, and crying kings. Falafel? Anyone?

The Nederlandse Vereniging, together with director Filip De Ceuster, offers this playful commentary on history and how we use the past to serve our agendas of  today. You can follow our progress here.

This is a bilingual performance in Dutch and English.

14 March, 7:30pm, Drama Studio (one night only!)

15th March: Translation Extravaganza!

 Translation Extravaganza!

This Teach-Out Round Table is a free event for everybody who takes an interest in writing and translating. We bring together a panel of experienced translators who will talk about their professional journey. They will share examples from their practise and we will intersperse the discussion with reading from their work. Our special guest is Taalunie Guest Author Simone Atangana Bekono.

The evening is moderated by Tom Baldwin and will take place in the Drama Studio at 7.30 pm. 

This event is part of the SLC Translation Days 2023. This involves three days of events and activites around translation and interculturality. The full schedule is available here. 

19th & 20th March: Spanish

¡Hola a todxs!

La Sociedad Hispánica would love to invite you to the annual Hispanic Play! This year we're performing Fernando Arrabal's Pic-nic.

"Pic-nic is a satirical anti-war comedy play in which Zapo, a soldier on the battlefield of the Spanish Civil War, receives a surprise visit. As Zapo settles down for a picnic on the battlefield, why should gunfire and bombs spoil an otherwise perfect Sunday afternoon?" 

The play will be running at the Drama Studio on Sunday 19th and Monday 20th March at 7pm (doors 6.30pm). Tickets are £5, available here for both dates: https://su.sheffield.ac.uk/events/id/3523-hispanic-play-2023

Check out our Instagram @hispanicsheff or Facebook (La Sociedad Hispánica) for updates! 

23rd and 24th March: French

Le Cercle Français (The Student French Society) are proud to present Les Mamelles de Tirésias by Guillaume Apollinaire as part of the Modern Languages Drama Festival!

In the aftermath of war, in the Zanzi-Bar cabaret, Thérèse rebels against a society ruled by men. She publicly rejects the roles of wife and mother and transforms herself into a man – Tirésias!

In the Zanzi-Bar, anything goes. So can her bully-boy husband – now changed by Tirésias into a woman – rise to the challenge of repopulating post-war France herself?

Apollinaire's 'surrealist drama' caused a riot on its opening night. Come and see why!

Performance in French

23 & 24 March, 7:30pm, Drama Studio
All our events will take place in the Drama Studio and we will start at 7.30.
Explore the University
Discover why Sheffield is the right choice for you at one of our open days or events.