Performing History: Dutch Play 2023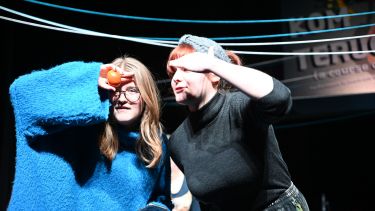 "The idea for Kom Terug! came on a snowy day in January", says director Filip De Ceuster. "After four weeks of writing the script together with the students, rehearsals, a technical run-through and a dress rehearsal, the audience entered and the lights went on. For an hour or so the Low Countries seemed to have crossed the Channel. The painted brickwork and red velvet seats of the church that now houses the Drama Studio transformed into skies of clouds and cotton.
A crowd of about 25 students of Dutch and their tutors took the stage to guide the audience through their own take on some key moments in Low Countries history. From disillusioned dinosaurs to prehistoric painters, from spying loom smugglers to crying kings. A sold out performance, a happy cast, and above all: a great confidence boost in Dutch.
It seems obvious that the practical, communicative, collaborative and expressive nature of theatre makes it a perfect companion to language learning. This goes far beyond the repeated exposure to (new) words and sentence structures in the target language: drama and the rehearsal process provide students with a real 'place' for their language learning: an actual immersive context, here and now, that makes the learning experience so much more meaningful, impactful and memorable. 
I am so grateful for this experience and for everything I learned through the Dutch play. I've come away with a broader vocabulary and a better knowledge of Low Countries' culture. Now, when I need to use tricky verbs, I think of them in the context of our script! 

Sophie Moss

2nd year Dutch, French & English Literature
Producing a play gives our students an excellent opportunity to really get involved, to feel empowered, and to take ownership of their language learning outside of the classroom. It provides them with an unparalleled opportunity to improve their language and communication skills in a creative and fun way."
Dr Filip De Ceuster
Jack Sullivan and crew filmed the performance.
You can read Sophie's full report of her experience here (in Dutch)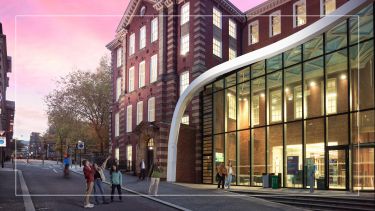 Visit us
Discover what sets Sheffield apart at our undergraduate open days on the Saturday 21 October or Saturday 18 November.