Dr David McCallam
BA, MA, PhD
School of Languages and Cultures
Reader in French Eighteenth-Century Studies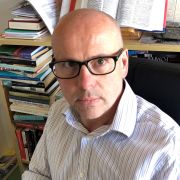 Profile

I specialise in the long eighteenth century in France, covering the French Enlightenment and the French Revolution. I have worked a lot on late eighteenth-century French literature (Chamfort, Laclos, Sade, de Maistre, etc.). 

More recently, my research has focused on the environment in eighteenth-century France and Europe, specifically on dynamic geological and meteorological phenomena, such as volcanoes, avalanches and clouds. In 2019 I published a wide-ranging study on the cultural significance of volcanoes in eighteenth-century Europe (Oxford University Studies in the Enlightenment, Liverpool University Press).

A more recent research interest is in the poetry of the late eighteenth century, especially in the context of the French Revolution. My study, André Chénier: Poetry and Revolution 1792-1794 – a bilingual edition of the last poems with new translations – will be published by Legenda in 2021.

I also have an active interest in French theatre, running an extra-curricular Molière reading group and co-directing the annual French play as part of the University of Sheffield's Modern Languages Drama Festival. 

I was Academic in Residence at the Graves Gallery, Museums Sheffield (2018-19).
Qualifications

MPhil, PhD (Cambridge)
MA (Warwick)
BA (London Metropolitan)
Research interests

Eighteenth-century French literature
Environmental humanities, particularly involving mountainous areas, in eighteenth-century Europe
Cultural history in late eighteenth-century France
The French Revolution
Early modern literature and translation

Current Research Projects:

Aliveness and Literature in France 1750-1800
A History of Resilience: Responses to Eighteenth-Century Environmental Disasters

I would be very interested in supervising postgraduate research in the following areas:

Gendered and embodied responses to the French Revolution
Environmental humanities, especially in eighteenth-century Europe
Eighteenth-century travel literature, especially in the mountains and in the Adriatic
Late eighteenth-century French literature – Laclos, Sade, de Gouges, Chénier, etc.
Early modern literature and translation
Publications

Books

Journal articles

Chapters

Book reviews

Conference proceedings papers
Research group

Isabel Richardson (2018-): Comparative translation study of French-English translations of Twelfth-Century French texts (c.1915-2015)

Harsh Trivedi (2017-): 'Les chefs-d'œuvre inconnus: une étude des œuvres fictives dans La Comédie humaine'

Rebecca Herd (2016-): '"Staging" Criticism: Seventeenth-Century French Women Playwrights and the Subversion of Classicism'

Kirsty Hemsworth (2013-2017): 'Translation and/as Empathy: Mapping Translation Shifts in 9/11 Fiction'. Successful completion.

Morgane Guinard (2013-2016): 'La Parabole du Savoir Interdit, ou les interdits philosophiques et religieux sur la connaissance en France au XVIIIe siècle'. Successful completion.

Carla Almanza-Galvez (2012-2016): 'Utopian Narrative in Eighteenth-Century Spain: Generic Frameworks and Social Reformism'. Successful completion. Winner of the Association of Hispanists of Great Britain and Ireland Postgraduate Publication Prize 2017.

Anna Jenkin (2012-2015): 'Perceptions of the Murderess in London and Paris, 1674-1789'. Successful completion.

I have also supervised numerous MA Dissertations on various topics including science/superstition in Maupassant (Liz Trueman, Winner Maria A Salgado Essay Prize 2017), women's practices of imitation in the French Revolution, the figure of Robespierre in post-revolutionary memoirs, Gothic intermediality, historical and contemporary translation studies.
Teaching activities

Postgraduate:

MDL6054 Advanced Translation from French
FRE3001/2 Littérature moderne: thèmes et idées (with Dr Maxime Goergen)

Undergraduate:

MDL1010 French Language (post-A-Level)
MDL115 French Critical Contexts (Mme de Duras, Ourika; Mme de La Fayette, La Princesse de Montpensier)
MDL107 Understanding Modern France
FRE21001 Writing the French Revolution
FRE363 Le Siècle des Lumières
Professional activities

Member of the Editorial Board of Eighteenth-Century Fiction (2016-2020)
Member of the Executive Board of the Society for French Studies (2014-2020)
Member of the Voltaire Foundation Board of Management, University of Oxford (2013-2017)
Member of the Editorial Board, Journal Arrêt sur scène/Scene Focus, Université de Montpellier-III (2012-)
Member of the Editorial Board of French Studies (2009-18)
Member of the British Society for Eighteenth-Century Studies
Member of the American Society for Eighteenth-Century Studies
Member of the European Society for Environmental History
External Examiner for PhD Thesis: Queen's University Belfast; University of Edinburgh/Paris III Sorbonne-Nouvelle; Murdoch University, Australia; King's College London; Université de Lorraine
External Examiner for French, University of Edinburgh (2008-2011), University of Cambridge (2011-2014), King's College London (2014-18)
REF (2014) Consultant, French, University of Kent
Referee for the Social Sciences and Humanities Research Council of Canada (SSHRC)
Outreach activities

Invited online talk for Museums Sheffield about a late nineteenth-century French painting held in their collections, Narcisse Chaillou's intriguing Le Dépeceur de rats (1871):

https://www.museums-sheffield.org.uk/whats-on/events/2020/11/lunchtime-talk-modernity-and-myth

Participation in a podcast for The Conversation, tackling the issue of how societies recover from major crises or shocks. In this case, the terrible Lisbon Earthquake of November 1755:

https://theconversation.com/the-earthquake-that-shocked-europe-how-lisbon-recovered-after-1755-recovery-podcast-series-part-two-140358

A vidcast made with Beth Evans (BA, MA in Screen Translation, Sheffield) and her creative subtitling start-up Subtxt:

Vidcast on the function of foreign languages in James Bond novels

A video made with Dr Amanda Crawley-Jackson and the Graves Gallery, Sheffield, on their artwork, Le 7 décembre 1815, neuf heures du matin [The Execution of Marshal Ney] by Jean-Léon Gérôme:

https://www.youtube.com/watch?reload=9&v=0Pih8m5ievs

Participation in the Radio 4 programme In Our Time on Marie-Antoinette:

https://www.bbc.co.uk/programmes/m000117y

Co-scripting of a video for The School of Life on the Romanian-French philosopher Emil Cioran:

https://www.youtube.com/watch?v=wMOM34XEi2k&t=1s

A poetry translation workshop entitled 'Smash the Text', run by the award-winning poet, Eleanor Brown, involving second - and final-year students in group translations of André Chénier poems written in the Terror.

The British Society for Eighteenth-Century Studies Teaching Prize (2013) for an innovative production of a short play by Marivaux, performed by students reading the text as part of my final-year module 'Le Siècle des Lumières'. Performances in Sheffield and Montpellier: