Dr David McCallam
BA, MA, PhD
School of Languages and Cultures
Reader in French Eighteenth-Century Studies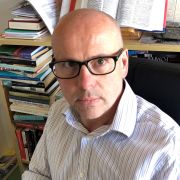 Profile

I specialise in the long eighteenth century in France, covering the French Enlightenment and the French Revolution. I have worked a lot on late eighteenth-century French literature (Chamfort, Laclos, Sade, de Maistre, etc.). 

More recently, my research has focused on the environment in eighteenth-century France and Europe, specifically on dynamic geological and meteorological phenomena, such as volcanoes, avalanches and clouds. In 2019 I published a wide-ranging study on the cultural significance of volcanoes in eighteenth-century Europe. In 2022 I was awarded a Fellowship at the Camargo Foundation (Cassis, France) to undertake research into forms of socio-ecological resilience during the Marseille plague of 1720-1722.

Another recent research interest is in the poetry of the late eighteenth century and its translation. My study, André Chénier: Poetry and Revolution 1792-1794 – a bilingual edition of the last poems with new translations – was published by Legenda in 2021.

I also have an active interest in French theatre, running an extra-curricular Molière reading group and directing the annual French play as part of the University of Sheffield's Modern Languages Drama Festival. 

In 2022 I was made a Chevalier dans l'Ordre des Palmes Académiques by the French state for 'services rendus à la culture française'.
Qualifications

MPhil, PhD (Cambridge)
MA (Warwick)
BA (London Metropolitan)
Research interests

Eighteenth-century French literature
Environmental humanities, particularly involving mountainous areas, in eighteenth-century Europe
The French Revolution
Early modern literature and translation

Current Research Projects:

Contagion: New Perspectives on the Marseille Plague 1720-1722
Ethnicity and Empire in the French Illyrian Provinces 1809-1813

I would be very interested in supervising postgraduate research in the following areas:

Gendered and embodied responses to the French Revolution
Environmental humanities, especially in eighteenth-century Europe
Eighteenth-century travel literature, especially in the mountains and in the Adriatic
Late eighteenth-century French literature – Laclos, Sade, de Gouges, Chénier, etc.
Early modern literature and translation
Publications

Books

Journal articles

Chapters

Book reviews

Conference proceedings papers
Research group

Isabel Richardson (part-time 2018-): Comparative translation study of French-English translations of Twelfth-Century French texts (c.1915-2015)

Rebecca Herd (part-time 2016-): 'Gender and Violence in Works by Seventeenth-Century French Women Playwrights'

Harsh Trivedi (2017-2022): 'Les chefs-d'œuvre inconnus: une étude des œuvres fictives dans La Comédie humaine'. Successful completion.

Kirsty Hemsworth (2013-2017): 'Translation and/as Empathy: Mapping Translation Shifts in 9/11 Fiction'. Successful completion.

Morgane Guinard (2013-2016): 'La Parabole du Savoir Interdit, ou les interdits philosophiques et religieux sur la connaissance en France au XVIIIe siècle'. Successful completion.

Carla Almanza-Galvez (2012-2016): 'Utopian Narrative in Eighteenth-Century Spain: Generic Frameworks and Social Reformism'. Successful completion. Winner of the Association of Hispanists of Great Britain and Ireland Postgraduate Publication Prize 2017.

Anna Jenkin (2012-2015): 'Perceptions of the Murderess in London and Paris, 1674-1789'. Successful completion.

I have also supervised numerous MA Dissertations on various topics including science/superstition in Maupassant (Liz Trueman, Winner Maria A Salgado Essay Prize 2017), women's practices of imitation in the French Revolution, the figure of Robespierre in post-revolutionary memoirs, Gothic intermediality, historical and contemporary translation studies.
Teaching activities

Postgraduate:

MDL6048 Advanced Translation from French
MDL622 Research Methods in Modern Languages

Undergraduate:

MDL115 Intersections: Text, Image, Thought in the French-Speaking World
MDL107 Understanding Modern France
FRE21001 Writing the French Revolution
MDL319 Littérature et environnement en France aux 18e-19e siècles
Professional activities

Member of the Executive Board of the Society for Early Modern French Studies (2021-)
Member of the Editorial Board of Eighteenth-Century Fiction (2016-2020)
Member of the Executive Board of the Society for French Studies (2014-2020)
Member of the Voltaire Foundation Board of Management, University of Oxford (2013-2016)
Member of the Editorial Board, Journal Arrêt sur scène/Scene Focus, Université de Montpellier-III (2012-)
Member of the Editorial Board of French Studies (2009-18)
Member of the British Society for Eighteenth-Century Studies
Member of the American Society for Eighteenth-Century Studies
Member of the European Society for Environmental History
External Examiner for PhD Thesis: Queen's University Belfast; University of Edinburgh/Paris III Sorbonne-Nouvelle; Murdoch University, Australia; King's College London (x 2); Université de Lorraine
External Examiner for French, University of Edinburgh (2008-2011), University of Cambridge (2011-2014), King's College London (2014-18); University of St-Andrews (2021-)
Referee for the Social Sciences and Humanities Research Council of Canada (SSHRC)
Outreach activities

Invited online talk for Museums Sheffield about a late nineteenth-century French painting held in their collections, Narcisse Chaillou's intriguing Le Dépeceur de rats (1871):

https://www.museums-sheffield.org.uk/whats-on/events/2020/11/lunchtime-talk-modernity-and-myth

Participation in a podcast for The Conversation, tackling the issue of how societies recover from major crises or shocks. In this case, the terrible Lisbon Earthquake of November 1755:

https://theconversation.com/the-earthquake-that-shocked-europe-how-lisbon-recovered-after-1755-recovery-podcast-series-part-two-140358

A vidcast made with Beth Evans (BA, MA in Screen Translation, Sheffield) and her creative subtitling start-up Subtxt:

Vidcast on the function of foreign languages in James Bond novels

A video made with Dr Amanda Crawley-Jackson and the Graves Gallery, Sheffield, on their artwork, Le 7 décembre 1815, neuf heures du matin [The Execution of Marshal Ney] by Jean-Léon Gérôme:

https://www.youtube.com/watch?reload=9&v=0Pih8m5ievs

Participation in the Radio 4 programme In Our Time on Marie-Antoinette:

https://www.bbc.co.uk/programmes/m000117y

Co-scripting of a video for The School of Life on the Romanian-French philosopher Emil Cioran:

https://www.youtube.com/watch?v=wMOM34XEi2k&t=1s

A poetry translation workshop entitled 'Smash the Text', run by the award-winning poet, Eleanor Brown, involving second - and final-year students in group translations of André Chénier poems written in the Terror.

The British Society for Eighteenth-Century Studies Teaching Prize (2013) for an innovative production of a short play by Marivaux, performed by students reading the text as part of my final-year module 'Le Siècle des Lumières'. Performances in Sheffield and Montpellier:

https://www.youtube.com/watch?v=o6cK0hokfZs&t=1

Scripting, directing and recording a student production of Maupassant's Boule de suif (1880) as a radio play in close collaboration with Paul Henderson of the Sheffield-based TheFatCadillac Ranch Studio:

https://www.sheffield.ac.uk/slc/news/students-create-radio-play-maupassants-boule-de-suif

Invited online talk for Museums Sheffield about a late nineteenth-century French painting held in their collections: Narcisse Chaillou's intriguing Le Dépeceur de rats (1871), depicting a young boy selling rat meat in the Siege of Paris of 1870: