Dr Henriette Louwerse
School of Languages and Cultures
Director of Studies and Senior Lecturer in Dutch
Knight of the Order of Orange-Nassau
Senate Award Fellow for Excellence in Learning and Teaching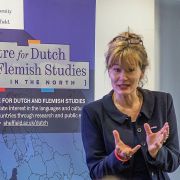 h.louwerse@sheffield.ac.uk
Jessop West
Full contact details
Dr Henriette Louwerse
School of Languages and Cultures
Jessop West
1 Upper Hanover Street
Sheffield
S3 7RA

Research interests

My research interests lie in the area of migration and literature, issues of multiculturalismm nation building and national identifications. I am currently working on the ambivalent attitude towards the notion of community as expressed in contemporary Dutch literature. I also work on the 'narrative of the nation' in particular in connection with the colonial past and multicultural present. I am an editor for the Journal of Dutch Literature. 
Publications

Books

Journal articles

Chapters

Conference proceedings papers

Reports

Website content

Dictionary/encyclopaedia entries
Research group

I co-supervised Cyd Sturgess' docotral research on cultural constructions of lesbian identity in Germany and the Netherlands in the two decades after 1918.
Teaching activities

Beginners and Advanced Language Modules in Dutch
Literature and culture modules for Level 2 and Level 3
MA modules Postcolonial and Migration Literature in Dutch and Approaches to Dutch Literature since 1945
Coordinator Writer in Residence UK Scheme funded by Dutch Foundation for Literature and annual Translation Project
Dutch Studies Programme Centre for Dutch and Flemish Studies
Professional activities

Administrative Roles

Director of the Centre for Dutch and Flemish Studies 
Director of Dutch Studies
Undergraduate recruitment officer and Head of Admission 
Year Abroad Coordinator for all programmes involving Dutch 

National and International Executive Roles

Awards

Knight of the Order of Orange-Nassau - Ridder in de Orde van Oranje-Nassau, 2014
Senate Award for Excellence in Learning and Teaching. Category: Sustained Excellence, 2008