French and Francophone Studies
French and Francophone Studies at Sheffield has a long-established profile of internationally outstanding research and forms a dynamic and diverse research community, including a thriving group of postgraduate researchers and students.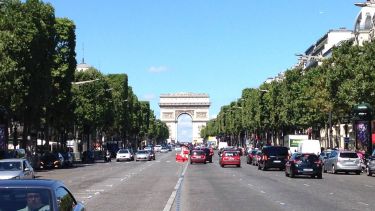 About us
All of the academic staff are involved in research and scholarship that directly inform their teaching. The research expertise and projects of staff are exceptionally wide-ranging - the portfolio of specialisms ranges from the politics and literature of the 18th to 21st centuries, to francophone literatures, post-colonial and neo-colonial studies, critical discourse analysis, contemporary cinema and theatre, sociology, modern history and life-writing.
We are committed to sharing and developing collaborative research outside of the university and, to this aim, we work with key partners including schools, cinemas, festivals, galleries, charities, media and international bodies to develop inclusive projects.
Contemporary cultural studies
Research expertise in the problematics of the post(-)colonial drives analysis of the relationship between cultural production and identity in francophone West Africa (Audrey Small).
Research expertise in contemporary film (Julia Dobson) addresses the interactions between genre, gender and film in the constructions of personal and political identities.
In a world of smart objects and objectified subjects, constructions of human identity and agency are also at the core of research on object-based theatre (Julia Dobson).
Literary studies and History of ideas
Research expertise in literary studies and the history of ideas enables a clearer understanding of the historic and cultural specificities of a text across contexts of production and reception.
Research in this field includes analyses of literary expression and the history of ideas in the 19th century in relation to Balzac, Hugo, Zola and other major writers (Maxime Goergen) as well as work on libertine literature, representations of Revolution or environmental humanities in the 18th century (David McCallam).
Cultural history and society
Challenges to the dominant narratives of modern history and society are at the heart of research in colonial and neo-colonial histories and the construction of minority identities and migration (Sophie Watt, Audrey Small) and through engagement with life-writing testimonies, Occupation diaries and cartoon art (Wendy Michallat).
Read about the diary of Madeleine Blaess
Dominant discourses and definitions of work and gendered divisions of labour are challenged in research on the policy and practices of the informal work economy, social exclusion and domestic labour (Jan Windebank).
Seminar series
French and Francophone Studies at Sheffield contributes to a series of research seminars with invited speakers, workshops and postgraduate work in progress sessions. We also work with colleagues in a range of regional, national and international research centres and networks. See individual staff webpages for more details.
Flagship institutes
The University's four flagship institutes bring together our key strengths to tackle global issues, turning interdisciplinary and translational research into real-world solutions.