French and Francophone Studies
French and Francophone Studies at Sheffield has a long-established profile of internationally outstanding research and forms a dynamic and diverse research community, including a thriving group of postgraduate researchers.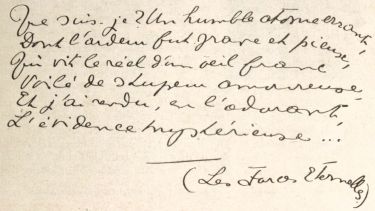 Off
Outside of the classroom, our students at all levels regularly engage with our research via 'work in progress' talks, film screenings, workshops and other public engagement activities.
About us
All of our academic staff are engaged in research and scholarship that directly inform their teaching. Their research expertise and projects are exceptionally wide-ranging. Current specialisms include French and Francophone politics and literature from the 18th to the 21st centuries, post-colonial, neo-colonial and migration studies, critical discourse analysis, sociology and gender studies, modern history and life-writing, environmental humanities, and European sociolinguistics.
We are committed to sharing and developing collaborative research outside of the university and, to this end, we work with key partners including schools, cinemas, festivals, galleries, charities, media and international bodies to develop inclusive projects.
Intellectual and Literary Histories
Our research covers environmental humanities (David McCallam), the history of ideas (Maxime Goergen), gender history (Wendy Michallat), and art history (Tom Baldwin, David McCallam), broaching themes as varied as 'natural' disaster, the legacies of French socialism, women's life writing, and intersections between literature and the visual arts. Other literary research interrogates afresh French classics such as Proust (Tom Baldwin) or Balzac (Harsh Trivedi) reframing our understanding of these works via new critical theory and original close readings.
Post-colonial, Neo-colonial and Migration Studies
Our research examines France's rich but fraught relations with its former colonies in terms of cultural production (Audrey Small) and identity construction (Sophie Watt) in places such as West Africa, Haiti and the Indian Ocean. Issues of migration are also key in understanding contemporary multilingualism in Europe (Kristine Horner). Our research shines new light on the power dynamics in 'small' countries and in diverse Francophone cultures around the globe.
Sociologies
Our research explores how societies function comparatively in today's Europe in terms of their types of social and labour market policy regimes (Jan Windebank), and language ideologies (Kristine Horner). This research provides original perspectives on the processes of language-based migration, gender relations and work practices in France and in neighbouring countries.
Seminar series
French and Francophone Studies at Sheffield hosts a series of research seminars with invited speakers, workshops and postgraduate 'work in progress' sessions. We also work with colleagues in a range of regional, national and international research centres and networks. 
On this and all the above research, see individual staff webpages for more details.
Flagship institutes
The University's four flagship institutes bring together our key strengths to tackle global issues, turning interdisciplinary and translational research into real-world solutions.