The School of Languages and Cultures welcomes visitors from across the UK and the wider world to its seminar series.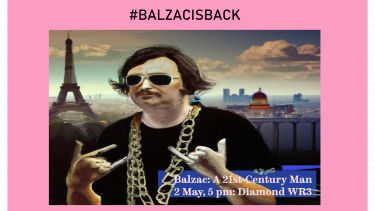 In addition to our national and international visitors, this year's series showcases Sheffield colleagues from French Studies, Spanish and Latin American Studies, Germanic Studies, and Intercultural Communication.  They present their research in a variety of disciplinary areas, including linguistics, literature, intellectual history and visual culture. 
---
Programme 2022-2023
Date
Speaker(s)
Title
Location

2 May 

4 pm

Speakers:  
Dr Nathalie Solomon (Université de Perpignan, France)
Dr Maxime Goergen (UoS) 
Dr Harsh Trivedi (UoS)
Chair: Dr David McCallam (UoS)

Balzac: A 21st-century man

A round-table discussion on the relevance of 19th-century French novelist Honoré de Balzac's works in our times.

Diamond, Workroom 3.

26 April

4.15 pm

Dr Andrew Cusack
(University of St Andrews)
"Transnational Modern Languages and Border Zones Case Study: Switzerland- Württemberg in the 19th Century"
Jessop West, SR G.03

25 April

5 pm

Dr Nicola Frith
(University of Edinburgh)
"Legacies of Slavery in the French Republic: Recognition, Reconciliation or Reparation?" 
Jessop West, SR G.03

15 March

7.30 pm

Translation Extravaganza!

A round table teach-out event with writers and translators

The extravaganza is part of the SLC Translation Days. The full programme can be downloaded here

Drama Studio

2 March 
 

2 pm

Prof  Renata Schellenberg

(Mount Allison University, Canada)

"German Colonialism and its Legacies"
Diamond, Lecture Theatre 9

28 Feb 


5 pm

Andreas Hiemstra
((Universität Oldenburg/
Rijksuniversiteit Groningen)

"Linguistic Transfer between Closely Related Languages in Third Language Acquisition"

Jessop West, SR G.03

27 Feb 2023
5 pm

Prof. Wim Vandenbussche
(VU Brussels, Belgium)
"Dutch in Multilingual Brussels: Past, present and future"

Diamond, Workroom 2
 

In collaboration with the Centre for Dutch and Flemish Studies

26 October 2022

5 pm

Dr Hannah Silvester
(University College Cork, Ireland)
"Language, Power and Identity in the Banlieue: Subtitling linguistic variation in Abdellatif Kechiche's L'Esquive"
Jessop West, G.03
Past
| | | | |
| --- | --- | --- | --- |
| 27 April 2022 | Dr Sophie Watt | "Neo-Colonial Violence in the Francophone World" | Pemberton LTA, Regent Court (ScHARR) |
| 30 March 20222 | Dr Lauren Rea | Billiken and the Great Latin American Women Project | Pemberton LTA, Regent Court (ScHARR) |
| 16 March 2022 | Katia Kameli | Katia Kameli in conversation: images, memory and translation (Chair: Amanda Tavares) | Online |
| 23 March 2022 | Thomas Waller | "João Paulo Borges Coelho, Autonomy, and the Global Literary Marketplace" | Pemberton LTA, Regent Court (ScHARR) |
For information on how to connect to the online seminars, please write to slc-enquiries@sheffield.ac.uk at least a day in advance of the talk you'd like to attend, with the message subject "Research seminar series link". 
Flagship institutes
The University's four flagship institutes bring together our key strengths to tackle global issues, turning interdisciplinary and translational research into real-world solutions.