The year abroad is one of the most valued facets of a degree from the School of Languages and Cultures. All students studying a language with us will spend their third year either studying and/or working abroad.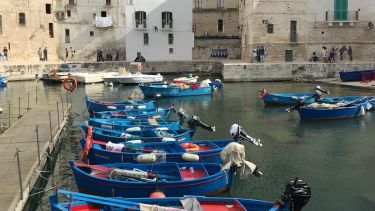 The year abroad enables you to immerse yourself in the language, culture and society of the language or languages you study. As our languages are spoken both in Europe and worldwide, you have the opportunity to choose destinations not only in Europe but beyond.
---
---
Study at a university
Studying abroad at a university allows you to experience the familiarity of student life with the excitement of living in another country. University life varies enormously across the world, however wherever they go, our students develop international networks and life-long friendships. Courses at international universities expose our students to new ways of studying, learning, and interpreting the world.
---
Gain work experience
Work placements provide you with the opportunity of gaining employment experience as both a professional and an internationally competent graduate. Types of work experience may vary hugely, from translation to consultancy and everything in-between. Work experience may be paid or voluntary, depending on type of work, organisation and location.
---
Teach English with the British Council
The British Council is an international government institution designed to promote British culture around the world. With the British Council, students will teach English to a variety of age groups in their host country. This allows students to have in-depth engagement with locals, as well as experience the world of international work.
---
Funding
Information for funding for your year abroad can be found here.
---
Year Abroad Blogs 
 Nina, a BA Modern Languages & Cultures student studying French and German, discusses her time in Reims and Heidelberg on her year abroad

"This year abroad has been the most fulfilling experience of my life so far. I know when you hear statements like this, the pressure for the year abroad only increases. But I have learnt an incredible amount about myself and what is important to me. I've grown in confidence, but also become more open-minded and empathetic. For me, this year has not only been rewarding and enriching, but varied and surprising. I have met the most wonderful people; learnt so much about two amazing cultures – and the cultures of the people surrounding me, seen incredible beauty, and tasted delicious bread… 

I started an internship at a Europe Direct centre on the 1st of September in Reims (45 minutes away from Paris). I worked as a paid intern with this centre to promote the activities of the EU and to go into local sixth forms and universities to talk about what the EU does and how it could benefit their future mobility projects. Originally, the internship was agreed for four months, from the beginning of September until the end of December. When I first arrived in the office in Reims, I was terrified. I realised I hadn't really spoken French with real French people for ages, let alone in an office environment, not knowing anyone. As it turns out, everyone feels the exact same way. 

I thoroughly enjoyed my life in Reims: the summer had lasted until the end of October, and the city was big enough that it was interesting on the weekends but not so big I felt anonymous and lost. I loved living in a little studio all to myself, only a 15-minute walk from work and the various projects run by the centre took me to Strasbourg and a handful of towns across the Grand Est and Champagne-Ardenne region. I found some lovely people through work who were volunteering (the Europe Direct Centre also welcomed European Solidarity Corps volunteers) and studying (there was also a SciencesPo campus there) in Reims. Fast forward to the end of December, I had been to every wonderful bakery in Reims (this is where the delicious bread comes in) and I was so happy there, my boss and I talked about extending my internship! The Europe direct centre have been taking on interns for over 20 years (these centres are all over France, so well worth looking up if this sounds interesting to you!), but this was the first time one was extended.

I was over the moon to be going back to Reims after Christmas (already planning my weekly Saturday trips to Paris and to see my friends again) and to be continuing my work there. That's when France decided they didn't want anyone from the UK entering (this was January 2022, just as there was the zillionth variant of Covid, and we were once again plunged into compromising uncertainty). However, somehow, I did manage to get back into France to continue working, and I luckily got to taste those French croissants once again. The job was incredibly diverse and invaluable in giving me an insight into the French work environment, all whilst improving my French and my knowledge of the French culture. By the end, I really didn't want to leave Reims, the French markets, the trips to Paris, the network of friends I'd made… 

As January and my time in Reims drew to a close, I was lucky enough to travel a little and visited friends in Amsterdam, Warsaw and Kraków, before I was due to move to Germany. Having enjoyed France so much, and ready to live there after my final year in Sheffield, I was absolutely dreading going to Heidelberg. I was no longer really in the studying-headspace after having enjoyed working so much and had convinced myself that nothing could beat France and the French lifestyle. 

Nonetheless, I moved to Germany at the beginning of March and my time in Heidelberg started with a language course which lasted the whole of March, with the term starting at the end of April. It was online, I knew nobody in my accommodation building and I felt I had left a whole little life behind in Reims. But as soon as the course started and I discovered the city for the first time, I fell in love. In all honestly, every day I was there just got better and better. Heidelberg is stunning, it's filled with beautiful cafés, gardens and outdoor spaces, places to walk and the best little university centre. Then to top it all off, it turns out that Germany also has excellent bread…

Student life in Heidelberg was the dream. It certainly helped that from mid-April summer came early and stayed throughout the remaining 4 months of my stay. The city is really walkable and beautiful wherever you go – I could walk easily from my friends' homes right into the Mensa for lunch. The Mensa was the flagship of the Heidelberg uni experience. This is the German answer to a university cafeteria. Except – erase that image of soggy fish fingers and 3-day-old peas which has inevitably been conjured up in your minds… because this was the dining experience to end all dining experiences. With a lovely outdoor Biergarten-style seating right in the heart of the town centre (a 2-10 minute walk away from most uni buildings), the Mensa became a daily meeting spot for my friends and I. Alongside our beloved Mensa, the town is framed by a stunning castle (the best spot for sunsets) on one side and a picturesque river on the other, with the beautiful oldtown nestled in the middle. There are various walks and possible viewing spots afforded by valley which hugs Heidelberg, and an amazing outdoor swimming pool. During my time in Germany, I was also lucky enough to visit Prague, Copenhagen, Basque Country and many German towns. 

What I was dreading became the highlight of my year abroad and I couldn't be more grateful for the people I met and things I experienced there. There's nothing quite like moving abroad and starting a new life – not to mention doing this twice! Of course, I have also managed to finally get fluency in French and German, a long-term goal. When people talked about personal growth or changing after their year abroad, I never really understood what they meant – until this year. The combination of coping with unpredictable uncertainty; establishing yourself in a new culture and environment and creating a network of people from all over the world shapes you in an irreplicable way. I've come back with new perspectives and outlooks on life and a newfound appreciation of what I have. I really couldn't recommend a year abroad enough.

Lucy offers some helpful tips based on her time in Austria on her year abroad

"Arriving and Visa Info

So I left the UK when there was a flight ban and Brexit had happened so it made traveling abroad extremely difficult. We were the guinea pigs with getting work visas and I was reliant on my own research as nobody seemed to be able to help from uni. You can apply for a Visa D which is more than 90 days but less than 6 months. You can only apply for the visa if you're moving within the next 3 months and the embassy in London is not very quick at replying. I would recommend sorting all the documents as soon as possible and emailing as soon as the 3-month window before travel there opens. The Facebook group 'Brits in Austria' is also very helpful for general life in Austria and some legal advice.

As mentioned, there was a flight ban for the UK throughout most of Europe. Kufstein is 1 hour from Munich and Salzburg so a cheap Easyjet ticket was my first choice. Then all were cancelled and I chanced a ticket to Vienna (also cancelled). With limited time and options I ended up flying via Helsinki, Finland to Vienna and then taking a 4 hour train to Kufstein.

The police were very worried about British visiting at the time and I had daily visits from them to check I was staying in my WG and also an ambulance came twice to do PCR tests before I was allowed to leave the flat. I believe these rules have relaxed since!

 Accommodation

Kufstein is a rather small town, even though it is the second biggest in Tirol. I had searched for rooms on lots of websites and my employer sent me newspaper adverts. I eventually found a room on Kufstein Wohnungen on Facebook. I recommend Facebook groups for house searches in lots of cities, I know in Strasbourg it was also very useful.

I would say rent in Kufstein is similar to Sheffield or can be more depending on how much you're willing to spend. Just watch out as lots of Austrian rental contracts usually want you to commit for 1 year minimum.

The Job

I found this job with the help of Caroline from SLC as I had lost my original job in Germany and didn't want to study online (Germany was not authorising student visas to UK citizens due to corona). I had no experience in logistics and no idea what the job involved but it is interesting. I work on loads between the UK and Italy so I have also practiced Italian lots since being here. At first, I felt overwhelmed and was not enjoying it but after 2 months, I was given more responsibility and understood the process better, and began enjoying it. The workday is long it is 8-5 officially but everyone is usually there for at least 30 mins more each day. There are perks to the job, you have PAW (Personalabwesendheit) so you can take afternoons or mornings off if you need to do things. The amount you have is dependent on how long your internship is. The pay is also very good for an internship, it is 2100EUR before tax and after tax around 1500EUR. I recently discovered we can also receive a tax refund in January as we are not full-time employees in Austria. LKW is a very diverse company, there are lots of young people and almost all of my friends are from work. The work is hard and it varies depending on which abteilung you are in, I mainly dealt with customs thanks to Brexit.

Language

Tiroleans speak with a strong dialect. In the training sessions (Schulung), the teachers made an effort to use Hochdeutsch but in my abteilung they all spoke in dialect except when talking to me or the other intern who was also from the UK. I was also offered 1 hour of German classes a week which were 1-1 so that's been helpful for asking questions about grammar etc. My German has definitely improved, my comprehension when listening is much better, even with the amount of dialect spoken.  

City

As mentioned before, Kufstein is not a huge place, there are only 17,000 people and for most of my time here things have been shut. That said there are still lots of things to do. I live in the valley between lots of mountain ranges, so I have been hiking quite a few times and visited almost every lake in the area. In summer you're allowed to swim in the lakes and it's a really nice thing to do with friends after work. Kufstein is directly on the border with Germany. While most of my time here the border has been closed, recently I went to Munich. I'd recommend going with friends and buy the Bavarian Bahncard, it gives you unlimited travel for the whole region and on public transport in Munich and worked out much cheaper than individual tickets. Innsbruck is 45 mins away by train and Salzburg 1 hour. Italy is also very easy to reach, Bolzano is only 2.5 hours away and Verona isn't much further. The Vorteilscard is the Austrian railcard, it's 20EUR and gives you 50% off all tickets in Austria, it's definitely worth buying if you plan to travel by train lots.

Places to visit:

Kaisergebiet and Kaiserlift – mountain range and cable car near the town

Kufstein Festung 

Achensee/Hintersteinersee/Hechtsee – lakes in the region some accessible by foot

Römerhofgasse – the oldest street in Kufstein, has good restaurants too

Purlepaus – restaurant serving traditional Austrian food.

Innsbruck

I would recommend LKW and Kufstein for anyone who wants to try something different. It is a really good experience for your CV even if you're not 100% sure about what career path you want to take after uni. Corona definitely changed my time abroad as many things were closed but I still really enjoyed my time here and would recommend Austria to everyone, it is a beautiful country".
---
Where can I study on my year abroad?
Explore the University
Discover why Sheffield is the right choice for you at one of our open days or events.