Dual degrees with non-language subject
At Sheffield we offer a wide range of dual degree programmes with Languages and Cultures. You combine your non-language subject with one or two languages.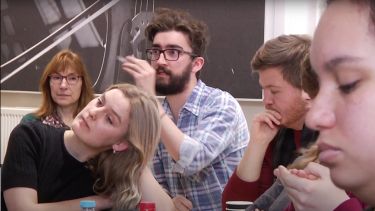 Studying for a dual degree with a non-language allows you to combine your chosen subject with either one or two of the languages we offer in the School. You can combine our courses with nine non-language subjects: Business Management, Economics, English, History, Linguistics, Music, Philosophy, and Politics. This short video explains the structure of our dual degree programmes. 
---
---
Your degree course will be offered by your two departments and you will pick modules from each: your dual department and the School of Languages and Cultures. Whereas you pick your modules, we in Languages and Cultures 'manage' your degree, that means that we coordinate your pastoral care, your Year Abroad and help to coordinate your timetable. You will be assigned to a personal tutor in each of your departments.
---
Which languages can I choose from?
You can study French, German, Spanish and Russian as a post A-level language in a dual degree programme. If you want to start a language from beginners level you can choose from German, French, Russian, Spanish, Portuguese, Dutch, Czech, Catalan, Italian, and Luxembourgish (from year 2). Please bear in mind that there may be some conditions around which language(s) you can choose for certain subjects, but we will try to make sure you can pick the combination that works for you.
What would my first year look like?
In your first year you can put together your dual programme in several ways. For example, you can go for a combination with one language and a 50/50 split with your non-language subject. You can also decide to add a second language or add guided module choices from across the University to your first year. In some cases this could be a topic outside of your two departments.
If your non-language subject is English, History, Linguistics, Music, or Philosophy, these are your options for a dual degree with one or two languages:
If you opt for a dual degree with Economics, Business Management or Politics, these are you options:
Third Year Abroad
You will spend your third year abroad. You can decide whether you want to split your year abroad over one or two languages depending on what you are studying. For example, if you study Economics and Spanish, you will spend a full year in a Spanish speaking area which can be Spain or Latin America. You can go to university, opt for a work placement or choose to be a British Council language assistant. Some of our students split their year over two regions and two activities. It is up to you. Whatever you go for, the full range of year abroad options is available to our students on dual programmes. 
Dual Combinations and module choice
Visit our language page to learn more about the core and optional modules we offer in our ten languages. 
In order to find out more about the courses offered in conjunction with our Dual Departments, visit the relevant prospectus entries below:
2023-24 entry
Explore the University
Discover why Sheffield is the right choice for you at one of our open days or events.