Revolutionary neck support technology transforms lives of MND patients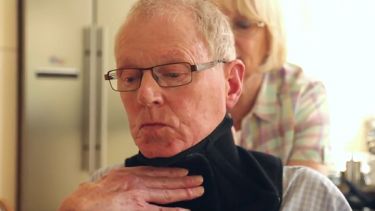 Head Up collar is the first of its kind designed with patients, for patients
80 per cent for patients who trialled the collar felt it helped them and that they wanted to continue using it
Innovative collar uses Outlast technology - a material designed initially for NASA to line space suits
25 NHS Trusts already using the product with suitable patients.
The Head Up collar, which was funded by the National Institute for Health Research's (NIHR) Invention for Innovation (i4i) programme and the Motor Neurone Association, is the first of its kind and has been brought to market as a result of an innovative five-year project by the University of Sheffield, Sheffield Hallam University and the NIHR Devices for Dignity (D4D) MedTech Co-operative, which is hosted by Sheffield Teaching Hospitals.
Patients with MND helped to design the unique collar which, unlike those currently available, offers personalised support to the collection of small muscles in the neck which are particularly vulnerable to the wasting effects of the debilitating disease.
Following a successful multi-centre clinical trial the collar has been made available to purchase from Chesterfield-based manufacturing company TalarMade, who have more than 30 years' experience in developing clinical innovations for use in rehabilitative and orthotic practice.
The neck support collar was trialled in 10 sites across the UK and in Ireland and was very positively received by patients, carers and professionals.
Some of the comments included:
"This collar gives support but also more freedom of movement – I can wear it to drive."
 "Other, more rigid collars were painful – I couldn't wear them for too long, I can wear this collar for eight hours straight – I wear it at work."
"I've tried the soft foam collars before but they don't give enough support, they just crumbled."
"Looks good… everyone who sees me in it says it looked brilliant – like a polo neck. I'm less self-conscious now."
MND is a debilitating condition that destroys the cells that control movement, leaving sufferers unable to move, walk, talk and eventually breathe. Treatments are very limited, and most patients with the disease are only expected to live two to five years after diagnosis.
A frequent problem caused by MND is the loss of strength in the neck, causing patients heads to droop to the side or the front. Until now, many head supports available to MND patients resemble the restrictive braces used after a trauma – such as a car crash. Alternatives include soft fabric collars.
The trauma collars typically restrict any residual head movement with many patients finding them very uncomfortable, bulky and visually unappealing and therefore choose not to wear them. The soft fabric collars offer little support and tend to make patients feel hot and sweaty.
MND patients experiencing problems with the existing collars approached clinicians and researchers from the University of Sheffield and Sheffield Teaching Hospitals Foundation Trust who, with the help of designers from Sheffield Hallam University, have invented the pioneering collar.
Lead clinician in the Head Up project, Chris McDermott, Professor of Translational Neurology at the University of Sheffield and Consultant Neurologist at Sheffield Teaching Hospitals, said: "MND is a terrible disease, and what we need is a cure that stops people from dying from the condition.
"While something like this collar is not going to change the disease course, we hope it will help improve patients' quality of life and help them get the most out of what they can do. We listened to what matters to them and what will have the greatest impact on their quality of life.
---
"The Head Up collar was very much designed by patients for patients. We listened to what matters to them and what will have the greatest impact on their quality of life.

Professor Chris McDermott

Sheffield Institute of Translational Neuroscience
---
"The special collaboration of leading clinicians, researchers, designers, manufacturers and the patients themselves have been working tirelessly for the past five-years to bring the idea to life."
Professor McDermott, who is also the Deputy Director of the NIHR Sheffield Biomedical Research Centre - the UK's only Biomedical Research Centre dedicated to Neurology - added: "The concept itself seems extremely simple and we couldn't believe something like this hadn't been developed and patented before.
"We are hoping the collar will continue to evolve and be improved as further advances are made, however the feedback we have already received from patients is extremely promising and it is wonderful to hear the impact it is already having on their lives."
Produced in collaboration with NIHR Devices for Dignity (D4D) and the Motor Neurone Disease Association (MNDA), the Head Up collar has already been trialled by over 100 MND patients – 80 per cent of whom felt the collar helped them and they wanted to carry on using the collar after the trial.
Andrew Stanton, Medical Design Researcher at Lab4Living, part of Sheffield Hallam University and a member of the team that designed the Head Up collar, said: "The whole ethos of this project, from the very start, has been collaboration. The project team was made up of healthcare professionals, designers and engineers.
---
As a group, we worked with those people living with MND and their carers, to understand their needs and hopes for the product and their contribution throughout the whole process helped us to get where we are today.

By working together, we all learned from each other and collectively helped to design and develop the Head Up neck orthosis, bringing forward a prototype that suited the requirements of the healthcare professionals and, most importantly, the lives of those people living with MND and their carers.

We are excited that the product is now available to patients around the world, with Sheffield – the universities and local NHS – bringing a life-changing and life-enhancing healthcare product to market.

Andy Stanton

Medical Design Researcher at Lab4Living
---
Clinical Director of NIHR D4D, Professor Wendy Tindale, said: "D4D has been a real catalyst in enabling the Head Up collar to be developed and made accessible to patients.
"Gathering the evidence about how it has helped people with MND has been a really important part of the journey and has helped in ensuring the product got to market."
Manufacturer TalarMade enhanced the original design of the Head Up collar to provide patients with extra comfort, better aesthetics and the use of Outlast thermal regulatory material in order to keep patients cool.
---
When TalarMade became involved in the project, we were able to quickly identify a number of material improvements to the original prototype based on our vast knowledge of material technology and technical design within the orthopaedic marketplace.

We used Outlast technology which is a temperature regulating material designed initially for NASA to line space suits. It uses phase change materials that absorb, store and release heat for optimal thermal comfort.

The improvements we made to the collar included support struts which can be moulded to form fit any shape, a microgrip lining to the struts to allow multiple re-positioning without slippage and changes to the fastening to allow for better conformity and fitting to the individual patient.

The combination of all of these materials has resulted in a fantastic product which will deliver high levels of patient outcome and compliance.

Ian Leddy

Managing Director at Talarmade
---
Martin Hunt, NIHR i4i Programme Director, said: "The Head Up device is a vital innovation demonstrating real improvement in quality of life for people living with MND.
"I'm proud that the i4i Programme has supported the development of Head Up from the outset. For me it's a shining example of what we set out to achieve through the i4i Programme - a bridge between promising innovations and provision of interventions for patient benefit."
Significant interest has been shown in the MND neck collar, with 25 NHS Trusts already using the product with suitable patients.
A global reputation
Sheffield is a research university with a global reputation for excellence. We're a member of the Russell Group: one of the 24 leading UK universities for research and teaching.