Tribbles success in Vienna for Marie Curie Researcher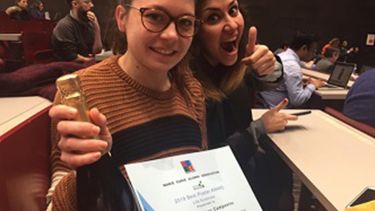 Laura said "I am part of the Tribbles Research and Innovation Network (TRAIN) funded by the Marie Sklodowska Curie Innovative Training Network (ITN) programme. Our network studies the role of Tribbles, a family of proteins known to regulate different functions such as proliferation, differentiation, immune response and metabolism. My project investigates the role of TRIB3 in macrophages in obesity. I hypothesize that TRIB3 has a role regulating metabolism and chronic inflammation that ultimately promotes obesity related disorders such as atherosclerosis, insulin resistance or type 2 diabetes mellitus."
"It was a great opportunity to attend for the first time the MCAA conference in Vienna. I learnt about career transition and jobs outside academia, tips and tricks for writing an Individual Fellow project, how this funding agency cares about us and our training, the future of research and how to use social media to reach the public to increase the visibility of our science. The digital poster presentation session was really good, presenting my project in 2 minutes to the audience was challenging but it gave me the opportunity to give a broad knowledge of my research and findings to other people working in different fields of life science. It was a nice surprise to win the poster prize, where the whole audience had the opportunity to vote for the best presentation/project.
Laura and Chiara Niespolo represented Sheffield at the conference alongside three other members of the network from other parts of Europe; all found it a really valuable experience.
Find a PhD
Search for PhD opportunities at Sheffield and be part of our world-leading research.