Young Investigator Success for IICD PhD Student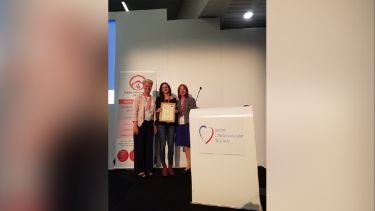 Blanca was awarded the Young Investigator best poster prize for her work which focuses on atherosclerosis, a disease of arteries that can lead to heart attack or stroke. Atherosclerosis is known to develop at regions of the vasculature exposed to disturbed patterns of blood flow but the mechanisms for this are uncertain.
Blanca has identified that endothelial cells at sites of disturbed flow express high levels of a protein called c-Rel which is a member of the NF-κB family of transcription factors. Her work using cultured cells and knockout mice has demonstrated that c-Rel promotes endothelial pathological changes under disturbed flow and is a driver of atherosclerosis. Together, these data demonstrate that c-Rel is a potential therapeutic target for this disease.
Blanca said "The BAS/BSCR Spring meeting was a great opportunity to present my research to both basic scientists and clinicians. It was fantastic to learn more about all the work that is being done in the cardiovascular field, and I particularly enjoyed the Young Investigators Prize Competition session. There were very high quality posters, so it was a surprise and honour to win a poster prize."
Flagship institutes
The University's four flagship institutes bring together our key strengths to tackle global issues, turning interdisciplinary and translational research into real-world solutions.