Dr James Alix
BSc(Hons), MBChB, MRCP, PhD, FRCP
Neuroscience, School of Medicine and Population Health
Senior Clinical Lecturer in Neurophysiology
Honorary Consultant Clinical Neurophysiologist, Sheffield Teaching Hospitals NHS Foundation Trust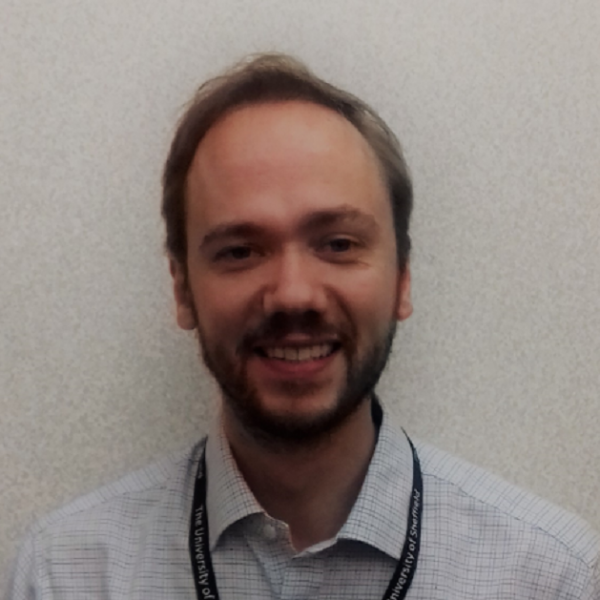 j.alix@sheffield.ac.uk
+44 114 215 9100/222 2234
Room B35, Sheffield Institute for Translational Neuroscience (SITraN)
Full contact details
Dr James Alix
Neuroscience, School of Medicine and Population Health
Room B35
Sheffield Institute for Translational Neuroscience (SITraN)
385a Glossop Road
Sheffield
S10 2HQ

Profile

2018 – Present

Senior Clinical Lecturer in Neurophysiology, University of Sheffield

Honorary Consultant Clinical Neurophysiologist, Sheffield Teaching Hospitals NHS Foundation Trust

2015 – 2018:

NIHR Academic Clinical Lecturer in Neurophysiology, University of Sheffield

2012 – 2014:

Specialty Registrar in Clinical Neurophysiology, Yorkshire and the Humber Deanery

2010 – 2012:

NIHR Academic Clinical Fellowship in Core Medical Training/Neurology, University of Sheffield

2008 – 2010:

Academic Foundation Programme, Imperial College, London

2000 – 2008:

MB/PhD programme, University of Leicester Medical School

I studied medicine at Leicester Medical School, undertaking an intercalated BSc in neuroscience (1st class Hons). I then entered the MB/PhD programme, completing a PhD on the molecular mechanisms of perinatal white matter injury. After graduating I completed academic foundation programme training in London before coming to Sheffield to take up an NIHR academic clinical fellowship in neurology. I subsequently moved into clinical neurophysiology and completed the final part of my training as an NIHR clinical lecturer.
Research interests

My research focuses on the development of new techniques to diagnose and monitor neuromuscular disorders. I use electrophysiology and different forms of spectroscopy in both pre-clinical and clinical settings in order to better understand how these diseases start and change over time.          

Current projects:

Use of electrical impedance myography in neuromuscular disease
Use of Raman spectroscopy in neuromuscular disease
Phenotyping preclinical models of MND

Funding                            

My work is or has been supported by the following:

Medical Research Council

Academy of Medical Sciences

Motor Neurone Disease Association

Engineering and Physical Sciences Research Council

Ryder Briggs Neuroscience Research Fund/Neurocare

Compound muscle action potentials, surface EMG recordings and a novel electrical impedance spectroscopy device.
Publications

Journal articles

Chapters

Contributors, Aminoff's Neurology and General Medicine (pp. vii-xii). Elsevier

Conference proceedings papers
Research group

PhD students

Nicholas Hagis (Primary supervisor)

Scott McKinnon (co-supervisor; Primary supervisor Dr Richard Mead)

Postdoc:

Dr Ali Awan
Teaching interests

I am module leader for the Applied Neuroanatomy & Clinical Neuroscience module on the MSc Neurology course.

I regularly give neurophysiology lectures to medical and postgraduate students. I also provide research supervision to PhD students, intercalating medical students, MSc students and supervise students on SSC attachments. I am also a personal and academic (PATS) tutor for medical students. I am also the training programme director for clinical neurophysiology (Yorkshire and the Humber).

I am particularly keen to encourage medical students to undertake research during their time at medical school and welcome any enquiries regarding potential projects.
Professional activities and memberships

Module Leader, Applied Neuroanatomy & Clinical Neuroscience module, MSc Neurology course, University of Sheffield.

Ad hoc peer review for journals, including Clinical Neurophysiology, Muscle and Nerve,  European Journal of Neurology.

Grant reviewer for Medical Research Council, NIHR, Motor Neurone Disease Association, MND Scotland, Academy of Medical Sciences, Royal Society.
Awards

Lord Adrian Prize, British Society for Clinical Neurophysiology, 2017

Distinction, Final Professional Examination, University of Leicester, 2008

Wellcome Trust Elective Prize, 2008

Physiological Society Studentship, 2005

Leicester Medical Research Foundation (Medisearch) Studentship, 2004

Charles Lawson Award for Intercalated Studies, University of Leicester, 2004

Examples of prizes awarded to my students:

British Society of Clinical Neurophysiology intercalation award (Mr H. McDonough, 2017; Mr Y. Chan, 2019; Ms A Hodgson, 2023)

British Society of Clinical Neurophysiology Medical Student Essay Prize (Mr Z. Qiang, 2023)

Clinical Research Poster Prize (29th International Symposium on ALS/MND, Mr H. McDonough, 2018)

BioSheffield Poster Prize (Mr N. Hagis, 2022)

University of Sheffield Summer Research Scholarships (Mr. Z Qiang, Ms H. Ji, 2022; Ms. C Kelly 2023)