The Medical Elective Programme is currently closed for the foreseeable future.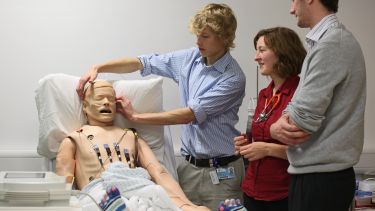 Off
We are no longer taking applications for Medical Electives. Any submissions after 30th January 2023 will not be actioned.
The Sheffield Children's Hospital is accepting applications for electives. There are currently no restrictions on dates or lengths of electives.
However, placements at Sheffield Children's Hospital are dependent on supervisor availability. If you are unable to find a supervisor in a paediatric subspecialty of interest for your required dates, then an elective placement will not be possible.
The Sheffield Teaching Hospitals NHS Foundation Trust has agreed to take two students per month for a four-week period, one UK medical student and one international student. We are now considering applications for February 2023 onwards.
Elective periods will run for four weeks starting on the first Monday of each month. The Trust is not in a position to accommodate students whose elective time falls outside this period.
Whilst we aim to have applications dealt with within three weeks, this process may take up to six weeks.
Elective Placements are available as follows: 
5 June to 30 June 2023
3 July to 28 July 2023
7 August to 1 September 2023
4 September to 29 September 2023
2 October to 27 October 2023
6 November to 1 December 2023
Please note that we cannot guarantee a placement for all students.
Requirements to submit with your application

Due to the volume of applications received, please ensure you include all the following documents with your application otherwise it will be rejected immediately.

Passport: scanned copy for identification purposes.
Letter of recommendation from the Dean of your Medical School: In our experience, senior students find these placements more useful. As such we recommend students be in their 4th or 5th year of a five year medical course or their 5th or 6th year of a six year medical course. The document must be on letter head paper, signed and dated. This must confirm that you are a student in the recommended clinical years of study and the language used for course instruction.
An up-to-date scanned Criminal Records Check: This can be provided by your local police station or your home University can carry out a DBS check.
A brief description of your academic aims (max. 500 words)
A brief CV (max. 500 words)
A valid English language qualification: If you are an international student studying at a UK Medical School, we will accept a certified letter from your University confirming you achieved the required English Language Qualification for entry to their Institution as well as confirmation of what those requirements were. Please visit this site for acceptable English language qualifications. To reiterate, without proof of English language ability, your application will be rejected until such proof is provided. Where English is not your first language, we require you to submit a valid certificate of English language proficiency. Our English language requirement for international students is in line with current GMC guidelines. Generally, you will require an overall IELTS grade of 7.5 with a minimum of 7.0 in each testing component (Listening, Reading, Speaking and Writing). An IELTS certificate is valid for two years and you must ensure your certificate is therefore valid for the duration of your elective placement in the U.K. The University will only accept those listed alternative English language qualifications. Comparisons of English language test grades can be found here.
Sheffield Children's Hospital(SCH) staff attachment confirmation: If applicable, a scanned or electronic copy of a letter of attachment confirmation from a clinical SCH staff member
Vaccination Evidence: Please provide evidence that you have received both doses of your COVID-19 Vaccination. You may be asked to provide evidence of a receiving the booster closer to the time of your elective.

All required documentation must be received electronically via the Online Application Form. If you have issues attaching any documentation, please email them to medicalelectives@sheffield.ac.uk.

The application process

Your initial application will be processed by the University of Sheffield. This ensures you will have, if successful, Sheffield University student status and access to University facilities. On your application, you will be required to choose three departments within the Sheffield Teaching Hospitals NHS Foundation Trust (STH) or Sheffield Children's Hospital. Once this initial processing is complete, your application will then be shared with the relevant hospital staff who will, if possible, allocate you to a department of your choice by contacting the relevant supervisor(s). If your first choice department is not available, they will try to allocate you to your second or third choice.

Once a clinical supervisor is identified and if your application is deemed satisfactory, an offer will be made to you. You then have fifteen working days to accept or decline this offer through University Admissions.

All successful students will be required to complete an Occupational Health questionnaire before undertaking their elective. After completing the questionnaire, students may be required to attend an Occupational Health appointment on the first day of their clinical attachment, so that full health clearance can be given prior to the start of the attachment. Students will not be allowed to attend placement until they have received clearance from the Occupational Health Team.

Administration fee

At the point of accepting your offer, you will be required to pay the administration fee of £300. You have 14 calendar days to pay the administration fee after accepting your offer, if you fail to make payment within 14 days your offer will be withdrawn.

Payment of the admistration fee should be done through the University's online store. You will need to provide a copy of the receipt to the electives administrator.

You do not need to pay anything if:

you do not receive an offer.
you receive an offer but do not accept it.

Final confirmation of your offer

Providing you meet all of the conditions of your offer, we will then send you a letter of final confirmation detailing appointments for your first day of placement.

This will include

Induction with the Medical School and the relevant NHS Foundation Trust
Occupational Health Appointment (if applicable)
Registration with the University
Meeting your Clinical Supervisor

Visas for students outside of EU

Once an offer has been made and accepted, it is the responsibility of the overseas applicant to obtain the necessary visa for their elective attachment

Check the UK Border Agency website at: https://www.gov.uk/study-visit-visa for information about Short Term Study Visa requirements. 
An amendment to the UKVI regulations (January 2018) meant that overseas medical elective students can now use the Short-Term Study Visa route rather than having to apply for a Tier 4 visa. You must ensure that you fulfil all the criteria for Short Term Study Visa and have all the documentation required to obtain entry to the UK in time to take up an elective placement including evidence of ability to pay fees, and evidence of ability to pay living costs for the duration of the elective placement. 
Students will be required to provide confirmation of their overseas medical course, and that the medical elective relates to it, from their overseas medical education provider with their visa application. Sheffield Admissions will issue Short-Term Study Visa letters to such applicants to support their Short-Term Student Visa application rather than a CAS for a Tier 4 visa application. For full details of this process please see our webpages at https://www.gov.uk/government/publications/short-term-students
Please note that neither the admissions service nor the Medical School can assist with visa applications other than by providing the Certification of Acceptance.
Please note that placements cannot be re-arranged if visas are not obtained in time to start on the agreed date.

We recommend that you apply for your visa promptly as approval can take considerable time.
A global reputation
Sheffield is a research university with a global reputation for excellence. We're a member of the Russell Group: one of the 24 leading UK universities for research and teaching.