10 ways our researchers are working to understand and fight against climate change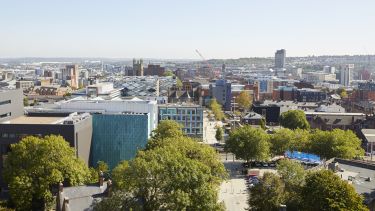 From Economics through to Urban Studies, our experts are joining the global conversation to find practical solutions to climate challenges and creating a sustainable future for all.
Here's how:
Climate urbanism researcher honored with award for outstanding contributions to climate science
Professor Castán Broto, from the Urban Institute, addresses the link between climate action and inequality, the conditions that shape what people can do and how, urban solidarity, and social innovation.
How food prices are affected by oil, trade agreements and climate change
Concerns about inflation rates have risen as the UK economy begins its much-needed recovery from the effects of the pandemic. The Consumer Prices Index, the measure most commonly used to measure inflation, rose by 2.5% in June 2021, the highest level for three years.
BRITICE-CHRONO project marks a major milestone in special issue
A Sheffield-led research project mapping the retreat of the last British-Irish Ice Sheet has reached a major milestone with the publication of a special issue in the prestigious Journal of Quaternary Science.
Importance of engaging farmers and landowners to help meet the UK's biodiversity targets
Research led by Dr Ruth Little, Lecturer in Human Geography, has highlighted the importance of engaging farmers and landowners in order to deliver on the UK's biodiversity targets.
Should we be looking to eco-communities as ways to radically transform our cities?
Could the collective and collaborative projects seeking to balance human and environmental needs be a solution for more people to live sustainably? Jenny Pickerill, Professor in Environmental Geography, has been researching and working with eco-communities around the world for over 15 years.
Decolonising innovation: is another innovation possible?
Much is written about the role of innovation in contributing to the wellbeing of people in the global South. During the last 2 decades, the development sector has increasingly focused on innovation as a key concept for socioeconomic development, both as a mechanism for overcoming local challenges and for integrating into a global economy.
Breathe/Respirar
Breathe/Respirar is a multidisciplinary action research programme that explores how green infrastructure and other nature-based solutions contribute to air quality, health and wellbeing, and provide opportunities to enjoy co-benefits such as connecting people and nature and supporting development of an inclusive green economy. 
CONEXUS: Co-producing nature-based solutions and restored ecosystems
The four-year, EU funded research project is working to create nature-based solutions to major global problems, in seven cities around the world.
MAGIC: Mobilising Adaptation: Governance of Infrastructure through Co-Production
Mobilising Adaptation: Governance of Infrastructure through Co-Production (MAGIC) will demonstrate and evaluate a community-led approach to reducing flood risk, whilst providing opportunities for urban residents to improve their health and wellbeing, through better engagement with blue and green spaces. The project will do this via a case study of the flood-vulnerable region around Hull. It builds on a 12-month pilot project funded by the SPF UK Climate Resilience Programme.
Professor Dunnett on winning team for ambitious regeneration of iconic skyscraper in Milan
Professor Nigel Dunnett is on the winning competition team for the sustainably-focused regeneration of the Pirelli 39 site in Milan, it has been announced.
Flagship institutes
The University's four flagship institutes bring together our key strengths to tackle global issues, turning interdisciplinary and translational research into real-world solutions.