Burying our Time Capsule at The Wave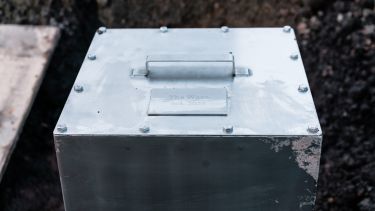 The burial of the time capsule was attended by Gill Valentine, Deputy Vice Chancellor, and Craig Watkins, Vice-President and Head of the Faculty of Social Sciences, who both gave speeches to mark the occasion. Colleagues from the architects, contractors, Faculty of Social Sciences and Sport Sheffield also attended.
The time capsule contains a number of items of memorabilia from the departments who will be based in The Wave, as well as items from Sport Sheffield who are located next to The Wave. The items included photographs, sports medals, information about the departments and their research and even some newspapers. The time capsule will be dug up in 30 years and it was made by colleagues in the University's Department of Mechanical Engineering. 
From the next academic year, The Wave will be the home to the School of Journalism, Media and Communication, Sociological Studies, the Information School, School of Education, Sheffield Methods Institute, Social Research Centres and the White Rose Doctoral Training Partnership. The Faculty of Social Sciences teams will also be based there.
Students will benefit from innovative education and learning spaces which have been designed to allow traditional pedagogical teaching and to support innovative, collaborative learning. The Wave will provide a thriving teaching environment for students, with teaching spaces used by departments across the Faculty of Social Sciences. The Wave will also bring together interdisciplinary research within the Faculty of Social Sciences, supporting our expertise in health and wellbeing, sustainable futures and inclusive society.