Congratulations to our new Fellows of the Academy of Social Sciences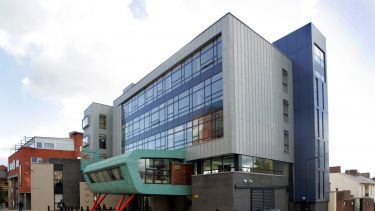 Congratulations to the leading social scientists from the Faculty who have been successfully nominated to become Fellows of the Academy of Social Sciences. 
Jackie Harrison, from the Department of Journalism Studies, Damian Hodgson from the Management School, and Kate Reed, from the Department of Sociological Studies, have each been recognised and celebrated in their fields for applying their knowledge and expertise across diverse areas of public life and delivering impact to improve social, political and economic wellbeing in the UK and beyond.
Professor Jackie Harrison's area of expertise is the civil role and power of the news. Her research examines three particular aspects of this: the architecture and culture of the news; the mediation of civil society and social identity by the news; and issues of news freedom and standards. 
Professor Damian Hodgson's research focuses on issues of power, knowledge, identity and control in complex organisations and on the management of experts/professionals in these settings. However, his primary research interest is on the transformation of health and care. 
Professor Kate Reed's research focuses on two areas: the social and ethical implications of genetic screening and the impact of novel technological application in medicine. She is also continuing to develop research bids in the area of genetics, family history and health.
Vice President and Head of the Faculty of Social Sciences, Professor Craig Watkins, said: "I would like to congratulate Jackie, Damian and Kate on becoming fellows. It is a very prestigious achievement to be nominated by your peers for this position and fitting recognition of their scholarship and the huge contribution that each of them has made to their discipline, and to our Faculty and University. It is excellent that Sheffield continues to be so strongly represented in the Academy fellowship."
Flagship institutes
The University's four flagship institutes bring together our key strengths to tackle global issues, turning interdisciplinary and translational research into real-world solutions.