Professor Damian Hodgson
PhD, MA, BA (Hons)
Professor of Organisation Studies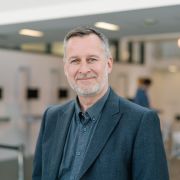 d.hodgson@sheffield.ac.uk
+44 114 222 3273
A014, Sheffield University Management School
Full contact details
Professor Damian Hodgson
Management School
A014
Sheffield University Management School
Conduit Road
Sheffield
S10 1FL

Profile

Damian is Professor of Organisation Studies, having joined the Management School in March 2020 from the Alliance Manchester Business School, University of Manchester where he was Director of the Institute for Health Policy and Organisation. He was awarded a PhD from the University of Leeds in 1999, and has worked at the University of Birmingham and University of Manchester Institute of Science and Technology (UMIST). He has spent time as visiting faculty at the University of Sydney, the Royal Melbourne Institute of Technology and the Royal Institute of Technology in Stockholm, Sweden. He was visiting research fellow at CRISES Research Centre in Quebec, Canada, in 2009 and is currently honorary professor in Population Health, Health Services Research and Primary Care within the School of Health Sciences at the University of Manchester.  
Research interests

Damian's research focuses on issues of power, knowledge, identity and control in complex organisations and on the management of experts/professionals in these settings. He has developed these interests through research in a range of industries including financial services, creative industries, R&D and engineering. However, his primary research interest is on the transformation of health and care, with a particular focus on the organisational and policy dimensions of this transformation. He is committed to engaged research which is pragmatic but theory-driven, with a focus on supporting and informing real change in practice.

In line with this approach, he has led a suite of co-produced research projects over the last 10 years, examining primary care reorganisation, access to care and continuity of care, skillmix and workforce transformation, and the integration of health and care in collaboration with a range of colleagues including Professor Kath Checkland, Dr Pauline Nelson, Professor Anne McBride and Dr Sharon Spooner (University of Manchester). Through this work he has also explored the use of policy pilots to effect change and the role of evidence in policy making with Dr Simon Bailey (University of Kent). He has also been Co-Investigator in several NIHR-funded research projects in healthcare; on the growth of GP federations, digital capture of patient experience data and healthcare leadership. He has published research from these projects in a range of leading journals in the fields of organisation studies, management, public administration and health services research.

Across these projects, an enduring theme in his research has been work to open up project management and project-based organisation to critical examination, given the ongoing 'projectification' of society in recent decades. With his colleagues Dr Svetlana Cicmil (University of the West of England), Professor Monica Lindgren and Professor Johann Packendorff (KTH Royal Institute of Technology, Sweden), he co-founded the "Making Projects Critical" workshop series; these workshops have involved over 200 academics from across the world, the most recent event (the 9th MPC workshop) was held in Sweden in January 2019. This international collaborative movement has resulted in the publication of several books, special issues and articles and in 2017 Damian and colleagues received the 2017 Project Management Institute Research Achievement Award for this work. Damian has also written extensively on the emergence of project management as a 'corporate profession' with Dr Steve Paton (University of Strathclyde) and Professor Daniel Muzio (University of York) and his most recent book "The Projectification of the Public Sector" was published by Routledge in 2019, co-edited with colleagues Dr Simon Bailey (University of Kent), Dr Mats Fred and Professor Patrik Hall (University of Malmö, Sweden).
Publications

Books

Journal articles

Chapters

Book reviews

Conference proceedings papers

Presentations
Research group
Grants

2019-2024 NIHR Applied Research Collaboration Greater Manchester (ARC GM) £8,999,731 (CI)
2019-2021 Health Foundation Evaluation of the Increasing Continuity of Care in General Practice programme £250,000 (CI)
2018-2020 Tameside & Glossop CCG Evaluation of the Tameside and Glossop Greater Manchester Transformation funded schemes £198,709 (CI)
2018-2020 NIHR An investigation of the scale, scope and impact of skill mix change in primary care £649,562 (CI)
2016-2018 NIHR Learning About and Learning from GP Federations in the English NHS £288,284 (CI)
2016-2018 NIHR Developing and Enhancing the Usefulness of Patient Experience and Narrative Data £516,997 (CI)
2014-2018 NIHR Greater Manchester CLAHRC (Collaboration for Leadership in Applied Health Research & Care). £11,091,228 (CI)
2010-2013 NIHR Exploring the Use of Management Knowledge across Communities of Practice in Healthcare £372,595 (CI)
Teaching interests

Damian has experience of teaching at all levels, including undergraduate, postgraduate, MBA and Executive Education and to both management and non-management students. His teaching encourages critical thinking on the part of students, and he encourages reflection on the complexities of organisations and organising informed by sociological, historical, political and philosophical insights. His teaching covers organisational theory/organisational behaviour, human resource management and research methods. Damian's teaching style is energetic and engaging, making links between everyday experience and abstract theory, and his goal is to empower students to make informed, critical judgements when faced by complex challenges in public, professional and personal life. Damian is a fellow of the Higher Education Academy, has received over a dozen letters of commendation for his teaching and was nominated for Best Humanities Lecturer at the University of Manchester in 2013.
PhD supervision

Damian is currently supervising several PhD students. He is interested in supervising doctoral research in the following areas:

Organisation and policy change in health and care
The devolution of health and care
Workforce challenges in health and care
Professional and managerial identity work in healthcare
Critical analyses of project management and project organising
Power and identity in the workplace