About the Management School
Sheffield University Management School is a leading management school with Triple Crown accreditation and a world-class reputation for high quality teaching, ground-breaking research and cutting-edge thinking.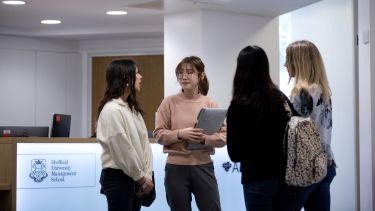 Off
Through the distinctiveness of our graduates, excellence of our staff, intellectually rigorous research and network of international partners, we seek to inform the practice of management and to make a difference to our community – locally and internationally. Our mission and vision are a focus for continuous improvement and development.
Our mission
Our mission is to have a positive impact on working lives, organisations and societies worldwide, fostering socially responsible management practices through world-class, innovative research and transformative education.
Our vision
Our vision as an internationally leading management school is to deliver excellence in research and education that promotes positive societal transformation for a fairer, sustainable future.
Our commitment to students
Our programmes provide:
The theoretical and practical skills needed for challenging real-world situations
The latest in business and management thinking
A good understanding of the field of study, including wider social issues, corporate social responsibility and ethical decision making
Academic stimulation and challenge
Skills for both the workplace and further academic study
A large number of our esteemed academic staff are leading international experts. They are research-active and their knowledge informs the course content to make sure students have a high quality learning experience, informed by the latest developments in the subject and drawing on the best original research from the leaders in the field. This means that our programmes are at the cutting edge of thinking and practice.
We work with our students to develop your skills and learning. The learning environment will be stimulating and intellectually challenging; in return, we want our students to engage with the academic content, be conscientious and take an independent approach to study.
Helping you to succeed, personal development and career development
We'll provide you with the academic framework and personal support to fulfil your potential and pursue a successful career. You'll be assigned a personal tutor on arrival who will support you throughout your course. Their role is to give you academic advice as well as pastoral support if needed. We are committed to providing whatever support you may need – academic, pastoral or career – so that you can both enjoy and benefit from studying with us. The Futures First Employability Hub, based in the Management School, acts as a key interface between students and employers supporting access to student projects, internships, postgraduate international summer schools, professional bodies and jobs.
A range of opportunities are available to help you enhance your personal and professional portfolio:
You'll benefit from access to an extensive network of organisations
Enhance your employability skills by spending a period of time on an industrial placement
Voluntary work. You can join our active Enactus group, and participate in entrepreneurial activities while making a contribution to the community
Selected programmes enable you to study at a partner institution in Europe, the USA, Canada, Australia or China and develop your international outlook, knowledge and cultural understanding. Our BA International Business Management includes a year of study abroad.
Careers
Students at Sheffield University Management School benefit from our dedicated Futures First careers support and acquire a set of strong skills to help secure future employment. The research and transferable skills acquired on your course are highly valued by employers. Many graduates go on to employment in high profile organisations, such as Procter & Gamble and Unilever, in fields such as accountancy, finance, human resource management, marketing and public relations. Others have joined graduate schemes with companies such as Rolls-Royce or have moved on to further study at Masters or PhD level.
BA Accounting and Financial Management graduates can receive exemptions from the foundation examinations of the leading professional accounting bodies, provided they pass the required combination of options.
Our BA Business Management is a flexible programme that allows you to specialise in a particular area of business through your module choice and you will be encouraged to start thinking about employability at an early stage.
At undergraduate level, you can graduate with a 'degree with employment experience' by taking a year in industry. The External Relations team at Sheffield University Management School will support you in securing a placement that is right for you.
Our community
Our multidisciplinary teaching and research environment is lively and varied – students are made to feel welcome and become part of the school's culture. Academic staff offer a schedule of times when they are available for consultation – or you can contact them directly to arrange an appointment. Management School staff are accessible and friendly, taking pride in the quality of support they provide to facilitate student learning.
Sheffield University Management School is one of the largest departments in the University of Sheffield, where you will meet students from all over the world. During induction week, you can attend a series of introductory meetings and social events. You'll meet staff and other students, find out about university procedures and facilities and societies that you may wish to join - the Management Society (ManSoc) and Investment Society are very popular with students at the school.
Take a tour of the department and discover our state-of-the-art facilities.
A world-class university – a unique student experience
Sheffield is a research university with a global reputation for excellence. We're a member of the Russell Group: one of the 24 leading UK universities for research and teaching.