Sheffield University Management School Advisory Board
We are guided by consultation with an Advisory Board, whose members are appointed for a period of three years.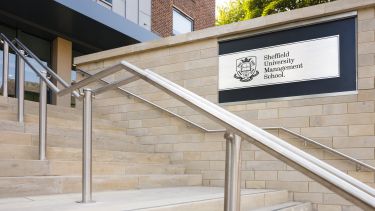 We are guided by consultation with an Advisory Board, whose members are appointed for a period of three years. The board guides Sheffield University Management School on a number of matters, including the following:
To provide advice on the development and implementation of Sheffield University Management School's strategy, and on external perceptions of management education in an international context
To provide advice on the taught programmes offered by Sheffield University Management School, in particular their relevance to management practice
To promote the reputation of Sheffield University Management School through members' networks, including the promotion of specific activities such as executive development programmes and media relations
To contribute to the life of Sheffield University Management School (for example, through giving a presentation on management practice to MBA delegates or other students, sharing interests with individual staff or with an academic division of the school)
Meet our Advisory Board members
External members
Sue Douthwaite,

Non Executive Director

Sue is a Chartered Banker and has enjoyed an extensive career in financial services working in Retail, Corporate and SME banking. Roles undertaken have included Managing Director of Santander Business in Santander UK and most recently Group Head of SME Strategy for Virgin Money.

She has been involved in transformational fintech projects and alliance partnerships in the UK and Europe and the successful delivery of new operating models, systems, and culture. She has been actively involved in the diversity agenda for many years.

Her non-exec career includes Director of the Melton Building Society and Board advisor to a medi-tech company developing support for physiotherapy.

Sue is Chair of the CBI UK Financial Services Council, University of Sheffield Business School Advisory Board member and Chair for the International Advisory Board Queen's Management School at Queens University, Belfast.

Teresa Hitchcock,

Partner DLA Piper

Teresa Hitchcock is a partner in DLA Piper's Sheffield office and leads the firm's UK Safety Health and Environment team.  Prior to training as a solicitor she worked as a senior environmental health officer in local government, and thereby acquired extensive practical experience of regulation and compliance.

Teresa's practice at DLA Piper covers a broad range of environmental, health and safety and product safety law matters and her client base is very diverse.  She regularly advises large international businesses but also government departments, non-profit organisations and local authorities.  Key areas of Teresa's recent practice have included regeneration projects, climate change law, the impact of conservation law on industrial operations, allocation of regulatory liabilities in corporate transactions, defending remediation requirements both statutory and civil, a number of major health and safety investigations and legal compliance projects.

Outside her practice, Teresa is heavily involved in the promotion of sustainable development. She plays a major role in overseeing the implementation of the firm's global sustainability initiative, and is a noted speaker at conferences on such topics as climate change law and sustainable supply chain management.  She is a member of the Sheffield City Region Local Enterprise Partnership and is chair of a Sustainability Partnership sub-group.  She has also been involved for a number of years in collaborative projects with the University in this field, and is a keen supporter of the Grantham Centre.

Graham Honeyman,
 Managing Director of Sarach Steel Technologies Ltd

After gaining BSc (Hons) and MSc degrees in Engineering Materials Technology at the University of Aston, Graham was awarded a PhD from Teesside University. 

In 1987 he was awarded a Winston Churchill Medal for his study of supercritical steam turbine technology.

In 1997 he was awarded a silver medal from the Royal Academy of Engineering for outstanding contribution to British Engineering.

In 1988 Graham joined Sheffield Forgemasters as Technical Director.  He led a management buyout of the Company and was appointed Chief Executive in 2005.

Graham was awarded a CBE in 2008.

At the IOD Director of the Year Awards in 2010, Graham won the Global Director of the Year.

In July 2012 Graham was awarded the Bessemer Gold Medal.  He was voted the International Person of the Year at the YBI International Business Awards in May 2013 and named CEO Of the Year at the national Private Business Awards in September 2013.

In February 2013 Graham was made an Honorary Professor of Strategic Management at Sheffield University Management School and awarded an Honorary Doctorate of Business Administration at Teesside University in November 2013.

Graham left Sheffield Forgemasters in 2021 having set up his own consultancy Sarach Steel Technologies Ltd which he now runs as Managing Director.

Caz Matthews

Caz Matthews is an Alumni of SUMS having completed her undergraduate degree in Accounting and Financial Management in 1982, earning the University Award for Accounting. Caz moved into her professional career in Washington D.C. first with Price Waterhouse and then with the Federal Home Loan Mortgage Corporation (Freddie Mac) holding roles in audit and I.T systems. In 1992, during her subsequent tenure with Anthem, Caz earned her MBA from Indiana University. She spent 22 years with the Indiana-based Anthem, Inc. and its predecessor companies before retiring in 2009. During her career with Anthem, Caz held several roles and responsibilities including Budget and Planning Director and Mergers and Acquisitions Officer.  In 2000, Caz became the President of Anthem and Blue Cross Blue Shield of Colorado and Nevada and moved to Colorado to establish Anthem's West region. Caz was also appointed to President of the Anthem Foundation where she directed the company's community engagement outreach efforts and launched the social responsibility initiatives including the company's first blueprint for, and implementation of, environmental sustainability.

Today, Caz provides business counsel and strategic and operations support for MandaLao Elephant Conservation that began operations in 2017. In 2018, Caz joined SeriesFest, an organization that provides year-round showcasing opportunities for television pilots and series. The organization provides forums and support including an annual, six-day television festival every June for directors, producers, actors and storytellers.

John Mothersole

John Mothersole was the Chief Executive of Sheffield City Council, stepping up from his previous role as Executive Director of Development, Environment and Leisure.

John joined Sheffield City Council in 1998 and since then has been directly and closely involved in much of the regeneration of the city centre. His remit has also covered the city's green heritage, the sustainability agenda, transport, culture and planning. Prior to coming to Sheffield he was a Director with the London Borough of Camden for seven years and before that was the Arts Development Officer for Newcastle Upon Tyne.

In his current role, John is Company Secretary to Creative Sheffield, Guardian of the Sheffield Assay Office, Chair and Director of the Source Training Centre, Chair of LGYH Chief Executives' Group, Chair of South Yorkshire Programme Management Board (ERDF), Chair of Sheffield City Region Chief Executives' Group and a member of Core Cities Chief Executives' Group.

Ann Pickering,

Advisor, KPMG LLP

Ann Pickering is a Strategic Advisor to the Chair of KPMG LLP, appointed in June 2020. She recently stood down from her role as Chief Human Resources Officer and Chief of Staff at Telefònica O2 UK. Here, she was also a member of the UK Executive Team, the Global HR Executive Team, and was Chair of both the Pensions Committee and the Responsible Business Forum.
In her early career Ann held HR roles at Xansa PLC (now Steria PLC) Fidelity Investments Services Ltd and Marks & Spencer PLC. As a result, Ann has extensive experience in senior commercial roles across multiple sectors and is an FCA approved person. In 2019 she was placed in the HERoes global top 50 Women Role Model list which recognised women who are leading by example and driving change to increase gender diversity in the workplace. In 2018 she was voted the UK's Most Influential HR Director.

Ann currently has a number of non-executive and educational interests. She is a trustee of Breast Cancer Now, as well as Step Up To Serve, a social action charity for 10-20 year olds. She is a visiting professor of HRM and Employability at Sheffield University Management School and also chairs the Management School's Advisory Board.

Ann is a Chartered Fellow of the Institute of Personnel Development and holds a degree in English from University of London. She was a CBI nominated Employment Tribunal member between 1995 and 2008.

Neil Radley,

Board Director and Private Equity Advisor

A qualified chartered accountant, Neil trained with Price Waterhouse both in the UK and in the Rio de Janeiro office in Brazil. He left post qualification and has spent his career in Retail Financial Services in CFO and CEO roles.

Neil has worked for US Banks such as JP Morgan Chase as well as Barclays and HBOS in the UK and Europe. From 2010 to 2013 he was CEO of Barclaycard Western Europe and was responsible for all the Barclaycard businesses in Europe at that time.

Since leaving Barclays in 2013, Nick has spent the intervening period in a plurality of roles including advisory work for private equity funds and holding board directorships. Neil has a special interest in small, fast growing Fin Tech businesses and was an Executive Director of Invapay, a business to business payments company, from 2013 to 2017 when it was successfully sold to Optal who appeared in the recent Sunday Times Tech Track 100 firms to watch. More generally, he provides executive chairmanship oversight to budding entrepreneurs.

Ludek Rychly,

International Consultant

 

 

Ludek has extensive practical experience in the fields of public administration, social affairs, industrial relations and business management and is author of numerous publications and policy papers. He also has extensive experience in cooperation with international institutions, such as United Nations (for example UN Committee of Experts on Public Administration), Council of Europe and OECD. He was the head negotiator for the social chapter during the process of the Czech accession to the EU and later he assumed membership in the EU High-level Working Party on Employment and Labour Policies. He was also a member of the ILO Governing Body. He has lectured at several universities in different world regions and works regularly for example with ILO Training Centre in Turin, Association for Public Policy Analysis and Management in Washington or Research Institute of Labour and Social Affairs in Prague.

 

As an international public servant and senior specialist of the International Labour Organization he advised many governments all over the world on the administration of labour and social matters. His previous professional experience includes serving as the Deputy-Minister for the Ministry of labour and Social Affairs in Prague. Other employment includes management jobs in the private sector.

 

In spare time, he enjoys music, English and French literature and sports.

 

Andy Ward,

Audit Partner, PwC Leeds

Andy is an Audit Partner of PwC Leeds. Andy delivers Assurance services to a broad range of clients from listed, internationally owned, private equity backed companies to entrepreneurial, privately owned companies, ranging from start-ups to more established businesses. He focuses on the manufacturing and the property and construction sectors and also works with clients in the UK holiday/leisure sector.  

He has over 15 years' experience with the firm which has included client secondments and includes a recent secondment to the Houston office working on an IPO and carve-out transactions in the oil and gas sector.

Andy is an alumnus of the University of Sheffield and has always kept strong ties with the city. Away from work he enjoys family life with his wife and two young children, as well as training for and taking part in 10km or half marathon races. Any remaining spare time is filled with playing golf and enjoying music concerts and comedy nights.

Andrew Williams,

Partner, Maisha+Co

Andrew studied engineering at Sheffield sponsored by, as then, British Steel. After promotions, working on four sites, two exchange schemes with Japan and completing his MBA, he took the step into consultancy. His practical experience in operations and supply chains enhanced Andy's credibility with clients and soon he was approached to join Deloitte. After seven years he joined KPMG and was made a partner in the UK, setting up and growing their supply chain and operations practice.

A 'shrinking' world meant he felt it right for his global experience to be enhanced and he spent the next four years based in Singapore as KPMG's global lead for manufacturing consultancy and regional COO for consultancy. After this secondment he left KPMG and explored more entrepreneurial activities such as charity strategies, developing a UK business for a German parent, and supporting in major strategic transformation programmes.

Andy has now set up Maisha+co, focusing on supporting companies in their transformation programmes, from SMEs to global conglomerates. He is passionate about the role of business, seeing it as not just a P&L but a mechanism for enabling society to develop and grow.

Outside work he accepts the stereotype of being Welsh and actively follows rugby. He can regularly be seen at the gym in a desperate attempt to roll back the years and seldom misses an opportunity to explore a new location and culture.

Trevor Williams

 

Trevor led the research team that supports Lloyds Bank's trading and sales activities. He joined the group after working as an economist for the UK Civil Service, a position he was offered while studying for a PhD. With both a BA (Hons) and a master's degree in economics, Trevor is a well-known voice within the banking sector. He regularly appears in the financial press, writing articles for publications and sharing his expertise on television.

Trevor is a member of the Institute for Economic Affairs Shadow Monetary Policy Committee.
Internal members
Professor Rachael Finn - Interim Dean
Professor Kirsty Newsome - Associate Dean Research
Professor Jason Heyes - Associate Dean for Impact and Engagement
Professor Fraser McLeay - Interim Associate Dean Education
Professor Carole Elliott - Associate Dean EDI and Development
Dr Samantha Drobinski  - Head of Professional Services
A world top-100 university
We're a world top-100 university renowned for the excellence, impact and distinctiveness of our research-led learning and teaching.