Sheffield University Management School offers you the opportunity to study for a PhD in a stimulating and rewarding collegiate environment, committed to delivering an outstanding student experience and impactful socially-responsible research.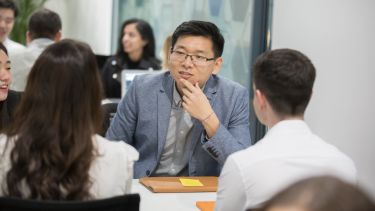 Off
Our research has a global reputation. It influences policy, changes lives and helps us to understand the world so we can make it better. Our focus is on sustainability and social responsibility, and in developing a vibrant research culture with staff and students from all around the world. 
As part of our active research environment, you will receive outstanding supervision from talented academics who produce intellectually rigorous and leading research in their respective areas.
Entry requirements
An undergraduate degree that is equivalent to a UK classification of upper second-class honours or above.

A masters level qualification of merit or above. Professional qualifications can be influential in our decision-making but are not usually considered to be an adequate substitute for a masters degree because they do not ordinarily provide evidence of research skills, if you do not have a masters degree with a substantial research element you may want to consider our MA in Social Research.

Our English Language requirement is IELTS at 7.0 with a minimum of 6.5 in each component or equivalent. Click here for more detailed information, however please be aware that our entry requirements are above the standard minimum listed on these pages and completion of a first degree taught in English in a majority native English speaking country must be within three years of the start date of the course.
Find your PhD supervisor
If you know what you would like to study, it's important to find a supervisor who is an expert in the area that can guide you through the three-year programme. The Management School hosts a broad spectrum of researchers who have expertise in a range of areas.
Use our tool to contact a supervisor or familiarise yourself with their work.
Write your research proposal
Every PhD candidate at Sheffield is required to submit a research proposal prior to acceptance onto the programme. This document is vital to the success of your application. It should be fully referenced and approximately 3,000 words (excluding bibliography) in length.
It should include:
Title of your proposed PhD research

The main aims and objectives of your research

Discussion of relevant existing literature

The proposed methods of research and a plan and timetable of work

Any resources available and any additional ones required
Applying
You will need to complete an online application form.
The deadline for entry in 2023 is Friday 14 July 2023. Applications received after the deadline will not be considered for entry.
Before you apply, check that you meet our entry requirements
You should check that you meet our entry requirements: an undergraduate degree which is 2:1 or equivalent and a Masters level qualification of a merit or above.

Check that you meet our language requirements: English is your first language, or you have IELTS 7.0 with at least 6.5 in each component. 

Your research proposal is vital to the success of your application and is the best way to demonstrate to your prospective supervisor that your research has originality. Your research proposal should be around 3,000 words in length.

Identify a member of staff as a potential supervisor and contact them to discuss your proposal.
After you submit your application
We will check that you meet our entry requirements and then send your application for review by your chosen supervisor/s. If you meet our entry requirements and your chosen supervisors are interested in your proposal we will invite you to an interview, either in person or by Skype. If the interview is successful, we will offer you a place to study with us.
Find a PhD
Search for PhD opportunities at Sheffield and be part of our world-leading research.