Digital learning in the Faculty of Social Sciences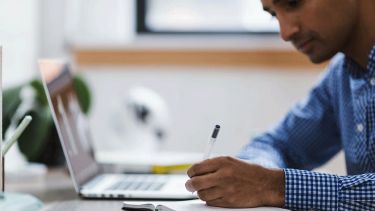 Students in Higher Education will most likely turn up to University with a good knowledge of digital technology. They will likely have a smartphone and potentially a laptop for independent working. In every subject we teach, there comes an element of learning how to prepare for a career in our digital-led world, whether that's digital drawing in our Architecture courses or working with specialised software in our Information School. 
The idea of taking education online has been a hot topic for the past couple of years, moving well beyond the innovation of the Open University back in the early noughties when it launched its online learning service. Recently, universities and educational institutions have been encouraged to look past the idea of 'distance learning' versus 'contact degrees' into a more blended provision which includes physical seminars and potential field trips with online lectures, resources and collaborative working. 
COVID-19 has forced institutions into action with digital teaching becoming the norm from September of this year. But in the spirit of innovation, departments within the Faculty of Social Sciences have been working hard to create an enjoyable and inspiring experience for our students that's both accessible and motivational, regardless of the circumstances.
Here's some examples of how we're taking our learning online:
A virtual trip across the world
Students on the MA International Development degree in the Department of Geography took a virtual field trip, all the way to Nepal. Students were in contact with professionals in the field of public health, community development, forestry, agriculture and disaster relief, as they worked in groups to engage in research remotely from the UK. 
Skype meetings were arranged with professionals, findings were shared and discussed in online meetings, in place of the evening debriefs we would have had in Nepal. Students are now writing up their projects and will be putting together key findings and reflections in a report for Nepali NGO, Green Tara.
Students in the Department of Urban Studies and Planning took a virtual trip to Durban, South Africa during lockdown, to develop a spatial and contextual understanding of the area through a mix of live lectures and discussion sessions, pre-recorded lectures, live online breakout groups, pre-recorded student presentations, Youtube videos, podcasts, and short articles.
Interactive online tutorials 
As an Architecture student, being able to present your intricate design work to a tutor is really important. Thankfully, online tools like Google Meets and Google Jamboard allow students to share their screens, show and talk through design work in one-to-one tutorials, and in wider seminars too. Jamboard's draw tool helps tutors to highlight parts of the students' design work, and to develop certain elements further, like sketching people into the buildings or adding in a body of water, or trees.
Student vlogs
Where students might usually stand up in class and deliver presentations about a topic they've been studying, students in the Department of Sociological Studies were encouraged to develop their digital skills and create vlogs around International Women's Day in March. Topics included 'RuPaul's Drag Race and gender assessment', 'The feminist connotations of Fifth Harmony's hit song 'Work From Home', 'Does a global feminism exist?' and 'Lizzo, Beyonce and Feminism'.
Nursery school interactions
The School of Education has created interactive experiences of learning spaces, through the use of virtual reality. An interactive film was made of a nursery school, where the nursery children went about their day, and students on the Early Childhood and Digital Literacy programmes at the University of Sheffield can now observe each child on their individual journey, how they reacted with people, resources and the provision. 
'It opened up so many discussions that would have been unreachable had it not have been for the 360 camera. This is something [...] undergrad and postgrad students would significantly benefit from, as it [enriches] their understanding of observing children within [Early childhood education] settings, teaching them what to look out for and what each child's interactions could possibly mean.' Kat Vallely, Doctorate of Education student.
Blackboard tools and resources
All our students have access to Blackboard, an online hub where access resources, reading materials, create group projects and liaise with tutors. Blackboard Collaborate is an arm of this platform, which enables tutors to record lectures, seminars and group workshops. 
Blackboard enables all students to have access to everything they need to succeed on their course, ensuring their learning is not halted if they cannot physically get onto campus for any reason. 
See Dr Tom Clark's tour of Blackboard for his courses in the Department of Sociological Studies. 
A world-class university – a unique student experience
Sheffield is a research university with a global reputation for excellence. We're a member of the Russell Group: one of the 24 leading UK universities for research and teaching.