Enhancing our public benefit research with SafePod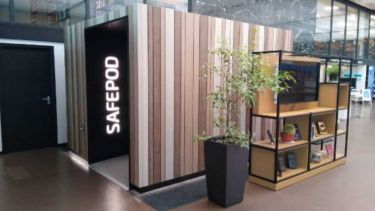 A small prefabricated room known as a SafePod has been installed in the Western Bank Library to enable researchers to securely access datasets containing records of millions of people across the UK to better understand how our society and economy function.
This comes after our University has joined the Economic and Social Research Council funded SafePod network, the first countrywide network of standardised safe settings in the world.
The network is run by the Scottish Centre for Administrative Data Research as part of the Administrative Data Research UK programme, which links together data held by different parts of government to facilitate better informed policy decisions.
I'm delighted that we can now offer the SafePod service to researchers at the University of Sheffield from Western Bank Library. Supporting our researchers to access the data they need safely and securely, to inspire and deliver excellent research, is increasingly important in a digital, data-intensive world.

Anna Clements

Director Library Services and University Librarian
We are really pleased to be hosting one of the new SafePods here at Sheffield. The SafePod network will enable social researchers to access rich sources of administrative and other data in a secure environment in order to undertake important public policy research. Having a SafePod here will bring considerable savings in terms of time and travel costs for the research community in Sheffield.

Professor Andy Dickerson

Professor of Economics
SafePods work by remotely connecting researchers to external servers so they can access anonymised datasets without compromising anyone's privacy.
Researchers have to follow strict policy and controls to use data in their research and priority access is given to research that is critical to society and the economy.
Through SafePods they can access government, study and survey datasets, alongside datasets created by the Administrative Data Research UK and the majority of datasets held by the Office for National Statistics' Secure Research Service, the UK Data Service and SAIL Databank.
Our University joins the National Archives and a range of other universities who have signed up to the scheme, including the Universities of Oxford, Cambridge and Manchester. A total of 24 SafePods are planned to be installed across the UK with the process expected to be completed by the end of this year.