Is learning more accessible now we're living online?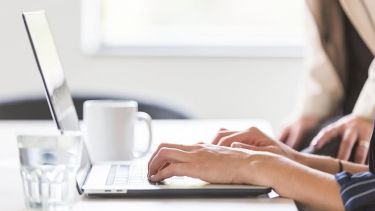 The arrival of the covid-19 pandemic at the start of 2020 forced the world into a new way of life. Around the world, societies and communities had to shift in order to prevent the virus from spreading. For many of us in the Western world, we're spending even more time online whether we're working from home, video calling with friends and family, or simply entertaining ourselves to pass the time. But how does education come into that, now we're living more digitally-led lives? 
Lecturer Dr Sabine Little is Programme Director for International Postgraduate Certificate in Education (iPGCE) and MA Education, Teaching and Learning, two online courses within the School of Education. 
Dr Little has been working with students online, across the globe for over 15 years, often leading a cohort of around 75 students from over 20 different countries and cities within.
'Distance learning courses can sometimes feel invisible within an University, especially when the students aren't on campus but rather, in a little box on my computer,' said Dr Little, 'So I've been thinking for years about what we can do to create a community of learners that feels like a real community, even though the students are only together in front of their screens.
'As soon as covid-19 happened and we were placed in a National lockdown, everyone was suddenly in the same boat. It was really encouraging to see how lots of conferences and talks and knowledge sharing moved online due to the restrictions. Before, recording something for those who couldn't attend in person was considered a big task – it was quite unusual.'
But now, covid-19 is normalising the concept of online learning with talks, conferences and podcasts becoming readily available to watch live (or later), and often open to the public.
'I don't think that will go away again, even when campuses reopen,' said Dr Little. 'I think something has flipped in the perception around accessibility and we're now moving to a point where I've been invited to an online conference for next summer in 2021, where no matter what happens, the event will have both a face-to-face and an online stream. 
'I think the pandemic has forced us into thinking about how we can make stuff work online, and now it's an option, we're realising it's a lot cheaper, because you don't have to fly to another country and pay for accommodation etc, but it's also a lot more environmentally friendly. While there are definite advantages to occupying the same physical space (such as having time away from other tasks and responsibilities, and more social exchanges), the opportunities for international, academic exchange are especially important in terms of facilitating those early on in their careers.'
Dr Little and her colleagues recently held a two-day conference for early-career researchers and PhD students for the European Educational Research Association, where they could share their work, and find out more about developing their research and professional ambitions. 
'If we'd held the conference in person, at the University of Sheffield or in the city, we might have had 15-20 participants attend across the two days and that would have been counted as a success. But we moved it online due to covid and we had over 80 people attend from maybe eight or nine different countries and I've engaged with many of the attendees since. 
'There's also an element of diversifying the audience when you bring content online, which brings new perspectives and ideas to the table that we might not have had before.'
Justine Chaleat is a French national living and working in Sweden, and a student on the iPGCE course. She said: 'Being a student in an online course can sometimes make you feel detached from the rest of your community. So being able to participate in international conferences with a video/chat option has allowed me to connect again. And it is accessible, you don't need to travel to meet professionals and peers. Listening to the conferences and presentations from students and teachers in different contexts also gives you new perspectives. I think it is a great opportunity to bring people and knowledge together, in an effective and accessible way, especially in this peculiar time.'
During the pandemic, and in her teaching prior to covid-19, Dr Little has incorporated three ways of sharing knowledge online as part of her courses. Firstly, a mailing list for her students so she can share any digital talks, conferences, discussions, videos or podcasts that she finds within her networks. 
'I think one of the issues is that it can be difficult for students to find out what is happening. Therefore it's important for there to be a facilitator; someone who knows about a lot of the conferences and online learning opportunities because of their networks as an academic,' she said.
Secondly, the creation of a student discussion board where any student can share interesting and relevant content they might find. That might include MOOCs (massive online open courses), podcasts, or talks. 
'It's so important to have a shared space so it's not just about the lecturer providing students with all the reading material, but creating a space where sharing opportunities becomes normalised and a part of the learning community.'
The third aspect is an academic calendar for the School of Education, where staff add different opportunities that come up through the year. 'The only criteria', Dr Little said, 'is that it's somewhat related to students' studies and that it's free, because we don't want to put students in a position where they are having to pay for other costs alongside their course. Adding to the calendar is a collegial exercise, with the added benefit that we, as staff, are also being made aware of upcoming and interesting talks.
'It is clear to me that the benefits of online learning are great. When you think about learning holistically, academics do not simply think about the key learning outcomes per module, but across the whole programme or course. The same thinking enables learners to follow their interests and create an environment where they can find out about topics beyond a module. It moves away from the idea that your lecturers are the 'go-to' for all knowledge, and so encourages independent learning. 
'It also enables programme teams to bring in additional research from a wide variety of perspectives, which is important to ensure our students can benefit from engaging with the voices of local and/or marginalised researchers. So it creates an opportunity for additional research to be shared, and to amplify the perspectives from early career researchers and under-represented voices.' 
The sudden increase in online content, however, is not without its own issues of privilege, including the problem of accessibility and free labour expectations. 'While making events that would typically take place behind closed doors more available is a great opportunity to increase networks and get research to new audiences,' Dr Little said, 'we have also seen an increased expectation to give talks for free, or 'for exposure', and, asking around in academic circles, these expectations seem to hit early career researchers and academics from minority groups the hardest. We need to remain aware that all this new content is not magically appearing, but the result of painstaking labour, and we need to rethink and redefine ways in which we can honour and value these contributions.
'On another level, we need to be mindful that being able to attend additional sessions or learn more outside of your course is a sign of privilege in and of itself, one that is linked to not having to work in your spare time, or having family to care for. Engaging with additional content beyond core teaching can therefore never become an expectation.' 
Within the limits described, however, the sudden influx of high quality content available online is a great opportunity for staff and students alike, and a great preparation for life after university.
'The classification you gain at the end of your degree is only part of the story - the learning habits you pick up can remain with you for life. When you finish education and begin work, if there is additional training or development you need or want, then you typically have to go out of your way to access it. So the skills of being able to identify those opportunities and the attitude of self-motivation are important. It is not just the students who have benefited – I myself have been able to attend presentations, meetings, and conferences I would not otherwise have had access to, and met some of our students at these events, where we shared the role of the learner. I don't think that we have maximised the benefits of this new trend yet, but the future looks exciting,' Dr Little said. 
Dr Sabine Little is Deputy Director of Learning and Teaching and a Lecturer in Educational Studies at the University of Sheffield. She is also Senior Fellow of the Higher Education Academy. 
Flagship institutes
The University's four flagship institutes bring together our key strengths to tackle global issues, turning interdisciplinary and translational research into real-world solutions.