Match Made in Heaven: Love and desire through the eyes of British Muslim women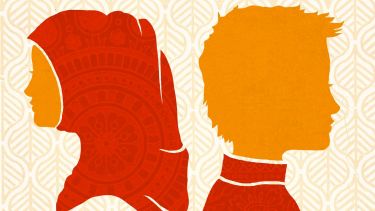 Storying Relationships is a research project born in the Department of Geography at the University of Sheffield, which investigated how young British Muslims talk and think about their personal relationships. 
The project involved workshops and discussions with young British Muslims in the UK. Participants used stories and storytelling, including fiction, poetry, play writing and blogging, to explore issues that can be hard to talk about directly: sex and relationships. 
Sunah, a participant in the Storying Relationships project, said: 'We have certain desires. We have certain wants that aren't spoken about and for me it was like I finally don't feel like I'm alone in that, and finally there's a place for me to feel as if I can speak about something and not feel embarrassed and not feel judged about it.' 
Reading a piece of her writing, Sunah expressed: 'No one had told me what marriage was really like. Strangers congratulate you on your wedding, as if that's the hard part; saying yes and signing the papers. Guests expect to see you cry on the wedding day. An asian bride should never smile, the cameraman told me. But after the wedding, that's when reality hits, once the glitz and glam of the wedding disappears.' 
Sunah was one of a number of British Muslims to take part in the project and write about their thoughts and ideas around relationships and sex.
While the project has had a number of outputs since its conclusion, including journal articles and short films, the research team is about to publish a new book, exploring love and desire from the view of British Muslim women. 
Richard Phillips, a Professor in Human Geography at Sheffield, led the project. Professor Phillips said: 'The book includes short stories, written by young women who took part in creative writing workshops across northern England and Scotland, in community centres, schools and libraries, such as the Glasgow Women's Library. The workshops were led by published writers, who led and encouraged younger people to write, some for the first time, exploring their experiences and lives. Some of the writing was so strong – moving, honest, spirited, creative – that we felt we needed to publish it. This anthology mixes together work by people who participated in workshops, alongside pieces by some of the workshop leaders, and some more established younger Muslim women, who had inspired the new writers.
'We hope that this book will encourage other young people – including Muslim women, and others too – to write, and also to use their writing to broach difficult subjects about sex and relationships. By talking or writing about these things, our research has shown that people are able to identify and make choices for themselves, as well as busting wider stereotypes about who they are, including damaging stereotypes about Muslims in Britain. Some of the stories in the book can be heard, read by their authors, on the Storying Relationships website. 
Sufiya Ahmed was a Project Creative for Storying Relationships and has a piece in the anthology, A Match Made in Heaven. Sufiya is a full-time author (her published works include Secrets of the Henna Girl and It's not about the Burqa) and was a guest speaker at the Storying Relationships Muslim Women Write event at Glasgow Women's Library, sharing her experiences of writing and publishing. 
Sufiya said: 'We have got this transfer of patriarchal culture from heritage countries to the UK. That means it makes it really hard to have conversations about relationships and sex. I think British Muslim women try to speak but others who are not Muslim women try to take over the conversation, sidelining us in our own issues and desires. 
'This practise of not listening to Muslim women needs to change and this book is a step towards changing that. Its pages capture our ideas and our stories in our own words.'
 
Pre-order the book from Hope Road publishers
Flagship institutes
The University's four flagship institutes bring together our key strengths to tackle global issues, turning interdisciplinary and translational research into real-world solutions.