To the rhythm of Niger: using radio to empower women in one of the world's poorest countries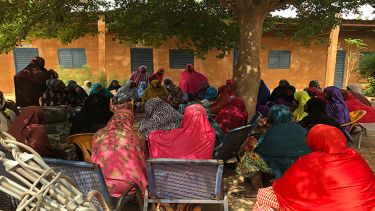 Niger's population competes with the mighty Sahara for space, room to live and prosper in their country that has lost 80% of its land to encroaching sands.
Since 2010, a multi-party system has grown roots, slowly embedding itself after decades of shifting constitutions, military rule and overthrow. But the nation languishes at the bottom of the United Nations' Human Development Index; its development is hampered by little or no access to education, overpopulation and inadequate infrastructure.
Over 70% of the population cannot read. When knowledge is power, how do you equip a remote population without the written word?
---
Radio, and especially Studio Kalangou, is proving, again and again, to be a vital tool in this society.

Dr Emma Heywood

School of Journalism Studies
---
Dr Emma Heywood from the School of Journalism, Media and Communication returned to Niger in June to chart the success of a ground-breaking project to empower women across the country through radio.
At the heart of the project is Studio Kalangou, which broadcasts a 2 hour news programme each day in five languages (French, Hausa, Zarma, Tamashek, and Peulh), along with magazine programmes and a forum. Its aim is to pull together the different sections of Nigerien society, to inform and empower development in one of the world's poorest countries.
Women face particularly entrenched challenges; in a deeply patriarchal society, their voice largely goes unheard and their access to information is often determined by the prominent men in their lives. Reproductive health remains a key issue in development; fertility rates are high and birth control is very hard to access.
The resulting population explosion has an adverse impact on many aspects of Niger's development, from stretched healthcare to environmental degradation. According to the United Nations Population Fund, empowering women is essential to achieving sustainable development.
Emma has been specifically looking at the impact of Studio Kalangou's broadcasts on women's empowerment. Working alongside Fondation Hirondelle, a Swiss-based NGO that uses media to inform populations facing crisis, Emma has led knowledge exchange workshops with media and NGO representatives to contribute to providing impactful, targeted journalism to women across the country.
She has also inspired women in Niger's capital to create their own listening group centred on Studio Kalangou radio programmes. About 80 gathered for the first meeting of the women-only group in Koura Tegui, a particularly deprived neighbourhood of Niamey.
"Enabling women to gain knowledge, awareness and empowerment in this way to the benefit their families is extremely important within this male-dominated environment. Radio, and especially Studio Kalangou, is proving, again and again, to be a vital tool in this society."
Flagship institutes
The University's four flagship institutes bring together our key strengths to tackle global issues, turning interdisciplinary and translational research into real-world solutions.