Sheffield academics awarded large grant to help develop and enhance access to renewable energy in East Africa.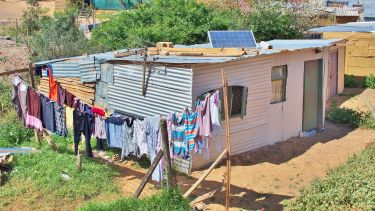 Vanesa Castán Broto, Professor of Climate Urbanism in the Department of Geography and the Urban Institute at the University of Sheffield, alongside Dr Vicky Simpson and Dr Enora Robin from the Sheffield Urban Institute, were awarded with the generous grant to develop their research exploring the transition to inclusive, clean energy in Ethiopia, Malawi and Mozambique. 
The grant was awarded by UK Research and Innovation (UKRI)'s Global Challenges Research Fund, which aims to maximise the impact of research and innovation to improve lives and opportunity in low and middle income countries.  
Professor Castán Broto's project, Community Energy Systems for Just Energy Transitions (CESET), is one of 18 projects to be awarded with the funding, to enhance efforts into energy and urban infrastructure. 
The team at the University of Sheffield will work collaboratively with institutions in the UK and Africa1 across the three-year research programme, to explore how communities can support just energy transitions in the region. 
The project will focus on Ethiopia, Malawi and Mozambique; three countries which face 'enormous energy challenges, with very diverse contexts,' says Professor Castán Broto. 
In 2018, rates of access to electricity in Ethiopia, Malawi and Mozambique were 44%, 13% and 27% respectively2. Despite recent improvements, 97 million people living in these countries still lack power. 
Progress towards clean cooking is too slow to meet international objectives for energy access. Only 2-3% of the population in Ethiopia, Malawi or Mozambique has access to clean fuels.
'These figures mean that almost 150 million people living in these countries rely on biomass or charcoal to cover their daily energy needs,' Professor Castán Broto said.
CESET focuses on this diversity through the analysis of models for delivering community energy and through exploring how communities themselves engage in renewable energy projects. 
'We believe that the strength of community energy lies in such diversity and adaptability. Diversity and adaptability are precisely what is needed to support the deployment of off grid energy technologies (solar, wind, hydro, biogas) in a variety of social and geographical contexts,' she said. 
'The UKRI grant will help us to take our research even further, with a live experiment in Maputo, Mozambique where we plan to create a mini grid that researchers and people from the area can use to better understand energy access and community energy.' 
The live experiment will be made up of a group of houses connected to a mini grid of solar panels that can be managed by the community and monitored by the University Eduardo Mondlane in Maputo.
'An important part of this research is ensuring that we are prioritising the knowledge and expertise of researchers and communities within these countries, and understanding how we can use that to help create an alternative energy system for those who need it; especially low-income communities,' said Professor Castán Broto . 
'By creating a large network of researchers who work in community energy and alternative energy access, we can all come together to develop systems that work for the people who need them.' 
As well as the clear environmental benefits of transitioning to clean energy, the team hopes to make a difference to the communities too. 
'This work, alongside the work of researchers within Ethiopia, Malawi and Mozambique, will benefit low-income communities directly,' said Professor Castán Broto. 
'We're hoping that this project can help us to rethink what energy access is and what kind of models we use to develop alternative energy sources. It's important that we can help low-income communities to be more autonomous when it comes to making their own energy decisions. 
'For example, one thing that has inspired the project is the idea of energy sovereignty, where people themselves can produce or control the energy they receive and choose how they use it, making decisions for themselves without having to use a big energy company who exploit low-income communities. So it's about rethinking what the future might be for energy access. 
'Mini grids are a way to do this, but they are also very complex systems. Their capacity is limited. They face a lot of problems with maintenance and running costs. So we want to see if any of these problems and complexities can be solved, so we can improve how we think about and design these technologies. We also want to better understand what communities can and can't do because people have lots of other responsibilities to consider, like having a job, a business, family and spending time with their friends so we have to understand whether communities have the capacity to take something else on, like managing their energy access.
'So basically, how can we match alternative energy options with what people want and can manage? That said, community energy isn't a patch. It isn't a quick win. It has to change our way of thinking about energy and looking at how we can govern it.' 
For more about the CESET project, visit the website. 
CESET is one of two research projects at the University of Sheffield to be awarded with UKRI Global Challenges Research Funding. Professor Sue Hartley, Vice-President for Research at the University, and her team have also won a grant for her research in Enhancing livelihoods in East African agricultural communities through innovations in solar energy. 
1 Mzuzu University (Malawi), Universidade Eduardo Mondlane (Mozambique), the Centre for Research on Governance (Mozambique), Mekelle University (Ethiopia), Addis Ababa Institute of TechnologyUniversity (Ethiopia), Oxford University, University of York, Loughborough University, University College London, and Durham University and the social enterprise SCENE
2 IRENA 2019
Flagship institutes
The University's four flagship institutes bring together our key strengths to tackle global issues, turning interdisciplinary and translational research into real-world solutions.