Sheffield leads new research helping regions identify technological innovation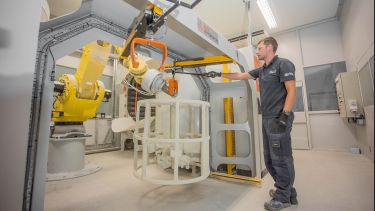 Dr Jorge Martins, Lecturer in Organisational Informatics, will lead the two-year Regional Technology Foresight project which will focus on innovation in the Sheffield City Region.
The region is an internationally recognised manufacturing hub and home to the Advanced Manufacturing Research Centre which carries out world-leading research into advanced machining, manufacturing and materials.
---
A renaissance in manufacturing and industry can help regions create jobs and grow economically.

Dr Jorge Martins

Lecturer in Organisational Infomatics
---
Working with local businesses, enterprise partnerships, policymakers and innovation experts, Dr Martins' project will develop processes in regions across the UK that can be used to identify and implement technological innovations that can maximise competitiveness and sustainability in the global marketplace.
Dr Martins said: "Over the last few decades, UK manufacturing has been under intense pressure from competition across the world. Increasingly there is a recognition that regions will play a crucial role in national development in years to come, as seen with the northern powerhouse agenda.
"A renaissance in manufacturing and industry can help regions create jobs and grow economically. However without adequate foresight and the ability to identify innovation-driving technologies and integrate them into industry, regions will face stagnation.
"By working closely with business, policymakers and innovators in the Sheffield City Region, we can develop a set of practices and processes for identifying, transferring, and integrating technological innovations that can help regional firms maximise their capacity and capability."
Dr Martins says the project's findings will be of interest for scholars in the interdisciplinary field of knowledge management, as well as in specific disciplines such as relational economic geography, evolutionary and institutional economics, innovation and learning systems, and regional studies.
The project is the first in the University to be funded by an Economic and Social Research Council New Investigators Grant. The grants are aimed at supporting early career research make the transition from independent researcher to managing a major research project.
Flagship institutes
The University's four flagship institutes bring together our key strengths to tackle global issues, turning interdisciplinary and translational research into real-world solutions.