University of Sheffield ranks in the top 100 in the world for Social Sciences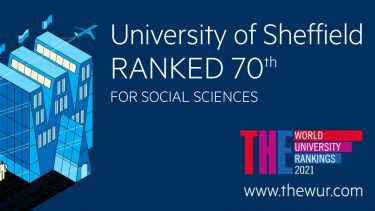 The Times Higher Education World University Rankings 2021 were released on Wednesday 28 October and the Faculty of Social Sciences are pleased to announce that The University of Sheffield have ranked in the top 100 for subjects including Education and Law.
Social Sciences at the University of Sheffield ranked at 70th in the world for 2021, highlighting that we are a University leading in disciplines including communication, politics and international studies, sociology and geography. 
Ranking in their own categories, Law at the University of Sheffield ranked 66th in the world for 2021, with Education following closely behind at 75th in the world for 2021. 
One of the most renowned university league tables, the ranking also listed the University of Sheffield within the top 200 best places to study business and economics (126th–150th place). 
Professor Koen Lamberts, President and Vice-Chancellor of the University of Sheffield, said: "I am pleased that the University of Sheffield has been recognised for being one of the best places in the world to study, which is a testament to the high standards of teaching and learning our dedicated staff provide to inspire the next generation.
"League tables such as this are useful tools to help prospective students make informed choices about where to study, so I am delighted to see the University's position as a globally-leading institution has been reaffirmed."
This latest ranking follows the University of Sheffield being named as one of the top 10 places in the UK to study journalism, architecture, and urban studies and planning by the Guardian University Guide 2021, in addition to the University taking 16 top 100 spots in the QS World University Rankings by Subject 2020 earlier this year. 
View the full THE World Subject Rankings 2021 (live from 0900 (GMT) Wednesday 28 October 2020):
https://www.timeshighereducation.com/world-university-rankings/by-subject
Flagship institutes
The University's four flagship institutes bring together our key strengths to tackle global issues, turning interdisciplinary and translational research into real-world solutions.