Young adults are more Thatcherite than their parents, study finds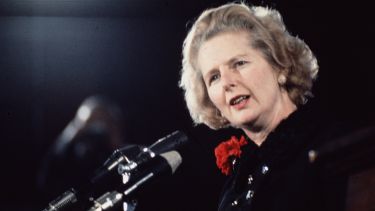 A pilot survey of over 600 UK citizens aged between 16-79, carried out by BMG Research in September 2018, explored how far Thatcherite policies of the 1980s and 1990s still shape UK society.
This pilot is preparation for a larger survey (5,000 respondents) set for January 2019 and forms part of Economic and Social Research Council (ESRC) research project led by the University of Sheffield into the impact of Thatcher's legacy.
---
Today it seems the majority of British people have adopted Thatcherite values and hold the sorts of attitudes which one associates with Thatcherism.

Professor Stephen Farrall

School of Law
---
Findings are due in May 2019 - 40 years after Thatcher became Britain's first female Prime Minister.
The pilot survey questions probed public attitudes towards key tenets of Thatcherism. Professor Stephen Farrall from the University of Sheffield's School of Law says that fundamental to this political philosophy was her belief in minimal state intervention, greater involvement of the private sector, respect for 'traditional values' and maintaining 'law and order'.
"Today it seems the majority of British people have adopted Thatcherite values and hold the sorts of attitudes which one associates with Thatcherism," he said.
"In the 1990s we saw a push back against Margaret Thatcher's political values. Now, we see the long sting in the tail. Changes in values that the Thatcher regime set in motion appear to have come to fruition – albeit a generation and a half later."
He added: "Margaret Thatcher was not only the longest serving British parliamentary leader of the 20th century but also a hugely divisive political figure.
"How far have we adopted her radical political orientation? In terms of these pilot survey findings and society's widespread adoption of behaviours in keeping with her values (such as owning shares or using league tables when choosing schools or hospitals) then it seems we are still very much living in her shadow."
In the survey, respondents were asked how much they agreed with statements such as:
Margaret Thatcher was right to sell council houses to tenants
Margaret Thatcher made Britain great again
Private companies run utilities like gas, electricity and water better than the government ever could
Margaret Thatcher only looked after the interests of the rich
Margaret Thatcher was right to take on trade unions
Findings reveal that younger adults appear to have embraced neo-liberal attitudes and beliefs in line with key Thatcherite values. Those aged 25-34 are not only the age group most supportive of Thatcherite policies, they also show most support (60 per cent) for her economic tenets of low regulation, less tax and reduced trade union power.
Only 40-50 per cent of the over-35s share similar above average neo-liberal attitudes. In contrast, over-35s were more supportive of Thatcherite values on law, order and authority (54-61 per cent) than young adults (47 per cent).
Discussion of the pilot survey results will be part of the focus of Professor Farrall's talk 'In Maggie's Shadow – Thatcher's enduring legacy' during the ESRC's annual Festival of Social Science, which takes place from 3-10 November 2018.
The event is being held in the Council Room in Firth Court at the University of Sheffield from 7-8pm on Tuesday November 6.
Professor Jennifer Rubin, ESRC Executive Chair, said: "The Festival of Social Science is one of the largest coordinated endeavours undertaken by a science community and demonstrates ESRC's commitment to public engagement.
"We know social scientists and economists value the opportunity to talk with the public to make an impact with their work. These events should inspire young people to pursue a career in social sciences and raise awareness about the impact made to wider society."
A global reputation
Sheffield is a research university with a global reputation for excellence. We're a member of the Russell Group: one of the 24 leading UK universities for research and teaching.