Department of Landscape training future professionals to make a social difference
Research surrounding socially restorative urban design is encouraging students to recognise and respond to global urbanisation issues; by making them socially aware of the health, wellbeing and environmental impacts of built design.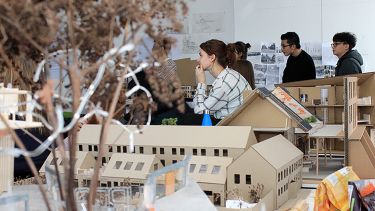 Dr Kevin Thwaites, a senior lecturer in the Department of Landscape, developed his research interests around what he calls a 'holistic human-environment relationship' that relates to urban planning and regeneration.
His research points to the importance of human functionality as part of the design process, with an emphasis on improving the lives of people who live in areas undergoing heavy regeneration.
---
When they present their work, it all boils down to the question: have you improved the life of your characters?

James Simpson

PhD student
---
"The reason that's quite important is that most of the current professional planning and design fraternity don't do that," Kevin says.
"What they do is they tend to focus on making the material product – whether it's a building or a street or an urban square – and then assume that the human activity that needs to go on there will just magically slot in to place. And it doesn't, very often," he adds.
As part of their Urban Design Project module, second year postgraduate students are currently using the Kelham Island area of Sheffield as the backdrop to form their own design proposals, taking into account the impact that their designs may have on a person's quality of life and society at large.
In order to better judge the way that their designs interact with human activity, students create a set of characters to help inform their design proposals, using them as a representation of real inhabitants.
---
People-centred approach
Considering the ages and personalities of their characters allows students to use a people-centred approach to influence their design decisions.
PhD student James Simpson, who works alongside Kevin on this project, says: "When they present their work, it all boils down to the question: have you improved the life of your characters?
"And often it's really quite explicit that their lives, through the design interventions, are greatly improved in contrast to what they currently have."
Training students to work in such a person-focused way means that they come away from their project with a multidisciplinary approach to urban design, equipping them with both the practical skills and the sensitivity to be socially responsible landscape architects.
Kevin says: "What students suddenly realise is that, actually, there is a social health agenda behind the decisions that they make and it's not just about making pretty buildings and interesting looking stuff; they're really impacting on people's quality of life.
"I think that's one of the reasons why we put the emphasis on students creating these fictitious characters, because rather than come at it from their own predisposed education as landscape professionals, they have to put themselves in the mind set of ordinary people.
"Once they've actually got into the mindset of people that they feel are genuinely a part of that context then it has a very, very dramatic effect on the way that they work.
"So it's that people-oriented thing that gives it its context specificity."
Flagship institutes
The University's four flagship institutes bring together our key strengths to tackle global issues, turning interdisciplinary and translational research into real-world solutions.