Virtual reality technology develops Urban Studies students' understanding of space
The Department of Urban Studies and Planning have pioneered a project that allows students to bring their work to life, through the use of immersive virtual and augmented reality technology.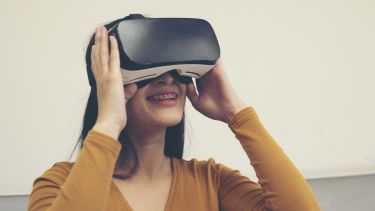 Off
The project, Developing Design Consultants of the Future, aims to increase students understanding of issues relating to urban design such as space and volume.
It gives current masters students the opportunity to experience their own designs as if they were already built, instead of relying on drawings and small models.
The background to this project builds on research by Dr Bobby Nisha, which explores the divide between what is conceived, perceived, and experienced in the urban design process.
---
This mechanism can actually be a tool to verify their imagination because they're actually experiencing what they are designing.

Dr Bobby Nisha

Senior University Teacher
---
She says: "When it comes to teaching design to a set of students, we rely very heavily on their imagination and there's a lot that is lost in between.
"There wasn't a means to verify their imagination in the traditional way of teaching, it was all explorative. They would do physical models and things like that, but it was all scaled down and there was nothing experiential."
---
Technology adopted by industry
It's hoped that this technology will give students an increased understanding of the key concepts that are required to succeed in an urban design career, especially given that this technology is becoming more commonplace in the industry.
Bobby says: "We know that quite a few multi-national companies already use this technology. For the industry it's how they reach out to the client; how they make the client like and engage with their design and this technology does this for them. In fact, there's quite a lot of new job positions that have been created."
For the university, this way of teaching design was originally conceived as an alternative solution to a cancelled field trip, but it has been further developed to compliment teaching on the MA in Urban Design and Planning, following huge initial success.
The module that uses this technology, Urban Design in the Global South, is built entirely around the experiences of an international field trip and so there were concerns that the module would not run unless another solution could be found – which was where this technology saved the day.
The faculty's learning technologist, Bryony Olney, suggested the use of VR so that the department could bring Istanbul to the students, rather than the other way around.
With the help of The Diamond's VR lab, which was being developed at around the same time, Bryony and team were able to build a 3D walking tour of Istanbul with a mix of 360˚ videos and photographs.
---
Verifying imagination
"We then understood that there was potential in using virtual reality in teaching and we went to HEFCE (Higher Education Funding Council for England) with the idea where we wanted to bring students in as co-consultants in learning design," Bobby says.
With a successful £50,000 bid from HEFCE, the project embedded learning with immersive virtual and augmented reality technologies in two modules: Advanced Software Skills in Urban Design, and Principles of Urban Design - and immediately engaged students who were excited to make their own designs more tangible.
"Instead of them being a passive recipient where we, again, rely heavily on their imagination; this mechanism can actually be a tool to verify their imagination because they're actually experiencing what they are designing and it can also enable somebody else to experience the space," Bobby says.
Flagship institutes
The University's four flagship institutes bring together our key strengths to tackle global issues, turning interdisciplinary and translational research into real-world solutions.