Back pain is an extremely common problem with more limited solutions than limb joints. Together with other musculoskeletal disorders, back pain creates a long term financial burden due to both the costs to health services and social care and the loss of income.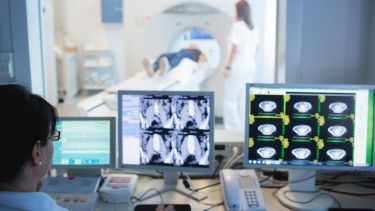 The number of patients requiring complex spine surgery is rapidly expanding, and the biomedical engineering industry needs suitably trained innovators to produce economic solutions to support healthy ageing for the people of Europe.
Spinner is a doctoral training programme aimed at bioengineering early stage researchers, to train bioengineers to be in a position to design the next generation of repair materials and techniques for spine surgery.
Spinner brings together partners from the biomaterials (Finceramica), implantable devices (Aesculap), and computational modelling (Ansys, Adagos) industries with orthopaedic clinicians (National Centre for Spinal Disorders, NCSD) and academic experts in cell, tissue and organ scale biomaterials and medical device testing (the University of Sheffield and the University of Bologna).
60% of people on early retirement or long term sick leave state that musculoskeletal problems are the reason.
European Action towards better musculoskeletal health. Published by The Bone and Joint Decade Department of Orthopedics, University Hospital. SE-221 85 LUND, Sweden.
Training of orthopaedic bioengineers capable of integrating in vitro, ex vivo and in silico data across scales for a holistic approach to spine reconstruction.
Development of bioactive, bio-resorbable, mechanically competent materials for restoration of the vertebral bone and stable fusion.
Mechanical characterisation of implant materials and reconstructed spines in vitro and in silico.
Integrated, user-friendly, in silico models of the mechanics of damaged and reconstructed spinal segments that can be used for predictive design, patient specific analysis and surgical navigation.
For more information about Spinned-EID, contact Normal Powell.
Flagship institutes
The University's four flagship institutes bring together our key strengths to tackle global issues, turning interdisciplinary and translational research into real-world solutions.