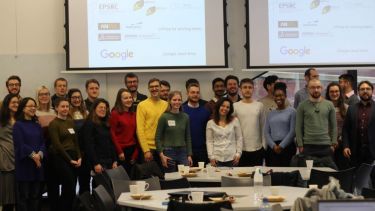 Modelathon is an event that brings together researchers in bioengineering to challenge a clinical burden through computational modelling. The focus was on osteoarthritis, an ageing-associated disease characterised by the degradation of the cartilage, and its surgical treatments.
The goal of the workshop was to develop a multi-scale model to study the effects of osteoarthritis on the biomechanics of the knee and to compare a total knee replacement with an osteocondral plug. Five teams challenged each other in an amazing venue, the futuristic computer room at the Diamond, in the University of Sheffield. After two days only one team won, having provided the best scientific and technical answer according to a panel of experts.
---
As a PhD student based in industry, I am learning how coordination and harmony in a team are essential to achieve goals. The Modelathon gave me the possibility to put into practice those soft skills that are essential to start and deliver a project.

Marco Sensale

ESR5
---
Marco continued, "In fact, in my team it was challenging to optimise the distribution of tasks according to everyone's backgrounds and motivations. When you have 48 hours to start a project from scratch and to deliver it, everyone must bring their best skills and expertise and perform on their strengths more than weaknesses.
"In this sense, communication represented an important factor that influenced the performance of the team, which was composed of six researchers that have met for the first time at the workshop. It was amazing to try to keep the motivation high and create a positive work environment in a team with six different nationalities and ways of doing things."
---
Modelathon was such a constructive experience to practice project management skills and to acquire insights about how a multi scale approach and the best software on the market could provide a model to study a pathology that is an economic burden in our ageing society. Participating in these workshops and trainings is what makes doing a PhD a unique experience.

Marco Sensale

ESR5
Events at the University
Browse upcoming public lectures, exhibitions, family events, concerts, shows and festivals across the University.