Your community, your responsibility
We all have a role to play in keeping the University, its students, staff and our city-wide community safe.
As members of the University community, it's our social responsibility to help stop the spread of COVID-19 by ensuring good conduct and behaviours and adhering to relevant COVID guidance.
To support our city-wide community, we expect you to act responsibly, recognise and respect others. We have set out the following expected behaviours to help us all navigate our responsibility to ensure a safe, inclusive and healthy environment.
Where necessary, the University will take action, including potential disciplinary action to protect the local city and the wider University community.
---
All members of our University community should take personal responsibility to help stop the spread of COVID-19 by following University and Government guidance, which includes adhering to advice regarding living in University accommodation and off-campus accommodation.
We expect this to include
wearing a mask on public transport, in shops and supermarkets, and in other indoor spaces like communal areas of student accommodation, on and off campus (unless you have a health reason that makes you exempt)
maintaining social distancing when on campus and in the local community and using sanitisers after touching surfaces and foods
ensuring any social gatherings that take place in private homes inside or outside are in accordance with Government guidelines and practising social distancing. In addition to causing disturbance to your local community, large gatherings risk increasing the spread of COVID-19 and are in direct contravention of government guidelines and expected student conduct
taking action when you have symptoms, by reporting these to the University and follow guidance to self-isolate and to get a test
providing your contact details for track and trace purposes when asked to do so
Government guidance on social gatherings
Coronavirus outbreak FAQs: what you can and can't do
---
All members of the University community should recognise, respect and value diversity, different abilities, backgrounds, beliefs and ways of living and behave, in a way that reflects and appreciates equality, diversity and inclusivity.
We expect this to include the below:
Be respectful and considerate to others in all settings (virtual and physical environments), and to those who may not be wearing a mask for health reasons.
Reflect on our own held privileges and support actions to provide an inclusive environment that challenges all forms of discrimination, bullying and victimisation.
Think critically about race in our society, challenge microaggressions and be actively anti-racist in our thinking.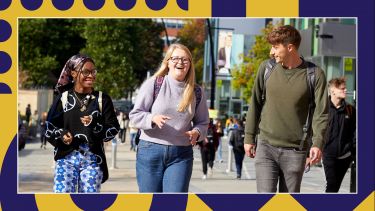 Advance Register for Clearing
We have places on our undergraduate courses this autumn. If you've already got your results you can apply now, or if you're still waiting for results get your name on the list by advance registering.