About the Technical Development and Modernisation project
The Technical Development and Modernisation (TDM) project was led by the University of Sheffield, aimed at tackling the blackhole in universities' technical expertise.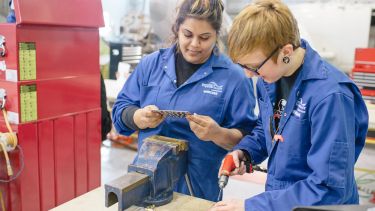 The project secured £400,000 of funding from the Higher Education Funding Council for England (HEFCE) to pioneer career pathways for technicians.
This project was vitally important to institutions across the country in unlocking the untapped potential of their technical workforce. The technical role in higher education has been neglected and overlooked by the wider sector, which has historically failed to identify the invaluable expertise and knowledge of their technical workforce.
In addition, it was noted that a significant variation and lack of consistency existed amongst technical job roles and terminology. This was contributing to both workforce-planning issues for universities and career stagnation and inequality for technicians.
These factors, along with the complexity and diversity of the HE environment were causing poor succession planning within the technical workforce, leading to the loss of critical skills. Within England, HEFCE data showed that 40% of all technicians were aged 50 or over. This suggested that succession planning and wider development of the technician workforce needed to be in place to ensure a highly skilled professional technician workforce for the future.
The Technician Council found that the UK must educate another 450,000 technicians across all sectors by 2020 to address this massive skills shortage. Subsequent reports indicated the number was even higher. The Technical Development and Modernisation Project began to address these issues through the development of a 'Toolkit' that is available to all Higher Education Institutions.
The Toolkit included tools, guidance and resources to help institutions address the gap in its' technical expertise and train the workforce needed to ensure the country remained at the forefront of teaching and international research and development.
The Toolkit is now facilitated and managed by the National Technician Development Centre (NTDC), a not-for-profit organisation built upon the success of the TDM project. Find out more about the NTDC on their website: www.ntdc.ac.uk.
TDM project impact report
Spotlight on technicians and technical services in Higher Education