Mark is a Lead Resource Technician in the Department of Infection, Immunity & Cardiovascular Disease (IICD).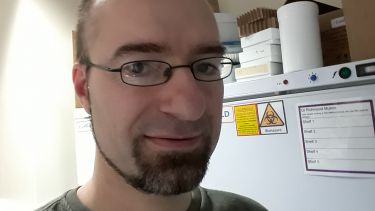 Off
Mark leads the core technical team in the Department of Infection, Immunity & Cardiovascular Disease (IICD), ensuring delivery of a professional technical support service across the department to meet business needs. He was nominated for the Times Higher Education (THE) Outstanding Technician of the Year Award 2020.
Mark is passionate about developing and supporting technicians and works to raise awareness of the Technician Commitment within IICD. As a member of the TechNet steering group, he has helped to organise several TechNet events, which has significantly expanded his networks across the University. He has extended his own professional IST registration and has hosted workshops at the annual IST conferences.
Mark is fully committed to championing exemplary health and safety management, managing departmental health and safety processes over a diverse range of disciplines and activities. Mark was nominated for his outstanding performance over the past year in response to the department's health and safety audit, introducing the department's unique induction system using PebblePad, and for his role in leading, coordinating and contributing to the essential onsite technical support provision throughout the Covid-19 pandemic.
Following a health and safety audit, undertaken by Central University Safety Services, Mark took the lead role in addressing the audit actions, working with relevant colleagues to ensure appropriate action was taken. As a direct outcome of the audit, Mark completely re-wrote the departmental Health & Safety manual, incorporating guidance and policy into one document. The revised manual has been commended by Andrew Johnston and John McVie in Safety Services and cited as an exemplary document to be used as a template for other departments.
Departments have been required to implement new systems for Risk Assessments and Control of Substances Hazardous to Health (CoSHH). Mark has worked closely with other Medical School Department Safety Officers (DSOs) and played a lead role in IICD to inform staff of the new changes, raise awareness, manage the changeover process and fully implement the new systems.
Mark developed and introduced a unique induction system for all new staff and students in IICD using PebblePad. This proved to be an invaluable resource to all new starters, providing a one-stop shop for useful university guidance, policies and information. Following the Health & Safety audit, completion of the PebblePad Induction has become a mandatory requirement for all existing staff and students, not only new starters. This initiative has since contributed to increased completion rates of other training the University offers, such as  unconscious bias, fraud, and personal data protection.
Throughout the Covid-19 pandemic, IICD has remained research active, undertaking essential research activities, supporting clinical studies in conjunction with Sheffield Teaching Hospitals and leading the rapid response to Covid-19 related funding calls. This activity has required an onsite technical team to be present to help deliver and support this research. Mark has been instrumental in leading, coordinating and contributing to this technical support provision, ensuring that essential lab services and processes have continued to enable this research to progress and that activities are Health & Safety compliant. Without the coordinated efforts of Mark, IICD would not have been able to respond in the way it has done to meet the technical support requirements for Covid-19 research.
A world-class university – a unique student experience
Sheffield is a research university with a global reputation for excellence. We're a member of the Russell Group: one of the 24 leading UK universities for research and teaching.