Janine is a Senior Technician in the Department of Infection, Immunity and Cardiovascular Disease.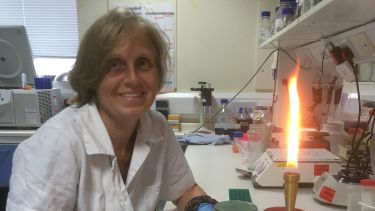 Janine was nominated for the Times Higher Education (THE) Outstanding Technician of the Year Award 2020.
Janine provides key core technical support in the Department of Infection, Immunity and Cardiovascular Disease. She principally supports Professor Jon Sayers' Research Group working on flap endonucleases. 
Janine specifically generated proof of concept data demonstrating that an assay the group had developed was suitable for identifying possible new antimicrobial compounds. This helped the University establish DeFENition Ltd, a spin-out commercial company co-directed by Professor Sayers.
Janine also supports Post-doctoral Research Associates and PhD students within Professor Sayers' research group, providing lab supervision, training and assistance. Over the past few years this has also included supporting medical students during six-week lab placements.
Over the last couple of years, Janine has worked with clinical academic colleagues to restructure and refresh the MBChB practical classes in infection, delivering classes in inventive and innovative ways. Janine is also a departmental representative on the committee overseeing the building and fitting out of the new shared laboratory teaching space.
Throughout the pandemic, Janine has provided crucial technical support that has allowed her academic and clinical colleagues to rapidly respond Covid-19 research calls. She has continued to support Professor Sayers' group in their Covid research activities, volunteering to help the group express and purify large amounts of a SARS-CoV-2 antigen (nucleocapsid) that is being used for antibody testing in patient samples. This has the potential to be rolled out to test staff as well as being used in research and epidemiological studies.
She has also been assisting academic colleagues producing Covid spike protein for clinical research led by Sheffield Teaching Hospitals, Category 3 lab trials on the virus and has supported academics coming in to work to finish extended experiments that couldn't be shut down.
A world-class university – a unique student experience
Sheffield is a research university with a global reputation for excellence. We're a member of the Russell Group: one of the 24 leading UK universities for research and teaching.