Matt is a Senior Core Facility Technician in the Microarray and Next Generation Sequencing Facility in the Department of Neuroscience.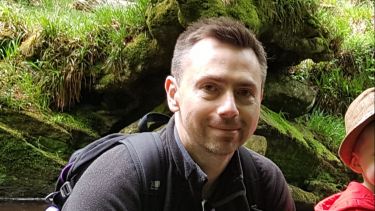 Matt is responsible for delivering Oxford Nanopore Technologies (ONT) long read sequencing services, among other duties, in the Microarray and Next Generation Sequencing Facility.
Matt was nominated for the Times Higher Education (THE) Outstanding Technician of the Year Award 2020, for his pivotal role in developing the sequencing service in the Department of Neuroscience. There has been a long-standing interest in the department to develop a technique to sequence a hexanucleotide repeat expansion found in the human C9ORF72 gene. This is the most common genetic mutation associated with Motor Neurone Disease (MND) and researchers needed a method to determine the mutation's length and true sequence. The ability to do this in patient samples would unlock several lines of research both inside and outside of the department.
Traditional sequencing technologies are unable to do this due to the length and highly repetitive nature of the DNA sequence. The Microarray and Next Generation Sequencing Facility had invested in a small low throughput sequencing device from ONT and due to Matt's tenacity, conscientious work and technical skill he was able to successfully sequence the repeat expansion of interest in plasmid DNA using this equipment. 
Matt has established a strong working relationship with ONT which led to his early access to a method for achieving the goal of targeting the region of interest in patient samples. Funding for a small pilot study was obtained from the Sheffield Biomedical Research Centre (BRC), to increase sample numbers and assess the method's viability to replace current diagnostic tests.
The department was also able to purchase a new higher throughput sequencing platform from ONT which has opened new lines of research, with the ability to investigate several cell lines and model organisms carrying the human C9ORF72 gene and expansion. An industrial collaboration has followed with a drug company based in the USA, which is currently running a clinical trial for the treatment C9ORF72 related MND, using the method Matt developed to genotype patients in the study.
Matt's development of applications using this technology has allowed methods to be offered to other researchers both within and external to the University, often with better value for money when compared with other traditional sequencing services. Microbiome sequencing, in particular, has generated significant interest across the University.
Most recently, Matt was involved in a national effort to sequence Covid-19 genomes isolated from patient samples, working as part of a multi-disciplinary team across several University and Sheffield Teaching Hospital departments.
Matt has also helped develop and deliver a Nanopore sequencing course using the ONT technology with the lead Bioinformatician from the Sheffield BRC, which has been delivered twice in the last year and is income generating for the department. Matt also has a role in teaching PCR and sequencing data analysis on the department's four MSc courses.
Beyond his day-to-day role, Matt is a mentor for GROW, the University's Professional Service staff mentoring scheme. He has also been a member of the TechNet steering committee, organising network events at the University and promoting the technical role at a University level. He also sits on a working group with staff from Sheffield Teaching Hospitals with the aim of increasing collaboration, organisation and provision of sequencing services in Sheffield as the NHS looks to consolidate its laboratories into a smaller number of sites nationally.
A world-class university – a unique student experience
Sheffield is a research university with a global reputation for excellence. We're a member of the Russell Group: one of the 24 leading UK universities for research and teaching.