Orla is a Technical Manager at the skelet.AL histology facility in the Department of Oncology and Metabolism.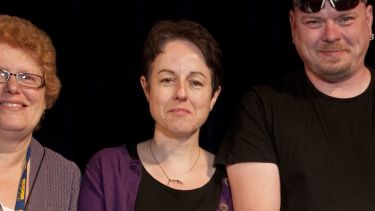 Off
Orla is a dedicated member of the core technical team who has worked at the University of Sheffield for 25 years. Her main focus and expertise is: histology processing of tissue and bone, decalcification, wax/plastic embedding, sectioning, staining, microscopy, histomorphometry measurements and analysis.  She was nominated for the Times Higher Education (THE) Outstanding Technician of the Year Award 2020.
Orla's expertise has been sought by a number of collaborators, internally, nationally and internationally and she has contributed to a vast array of research projects, providing a professional service, with users giving very positive feedback.
Histomorphometry is a very specialized resource which very few researchers can access or perform. Orla provides the expertise by either training staff from other centres to be competent in the technique, or by performing the laboratory work and analysis herself. She will work with the trainee to develop, modify and optimize methods, tailoring them for the specimen they are working with to give the most robust results.
Orla has been involved in a number of research projects in collaboration with the University of Birmingham, University of Oxford, Max Planck Institute in Germany, University of Harvard which have utilised her skills. These were studies in staining and labelling of bone and tissue, histomorphometry measurement and analysis, producing images for publication.
She also developed and tested three novel immunohistochemisty marker protocols for the measurement of hipbone/pseudomembrane interface for a clinical academic in her department.
Her research work on Micro-computer tomography scanning and analysis, and histology and histomorphometry for a clinician in the renal department at Sheffield Teaching Hospital, generated a published paper on which Orla is co-author. Other papers have been submitted and are awaiting confirmation of acceptance. There are other published conference proceedings from this work.
Orla trains staff and students, both internal and external, on how to use equipment and to perform histological procedures. Over the last 12 months, she has trained 28 researchers on equipment and techniques, this includes nursing staff, undergraduate and postgraduate students. She works closely with academics – clinical and non-clinical, discussing sample collection and giving advice on preparation and analysis.
Orla is an advocate of the Sheffield Hallam University Placement Programme. Undergraduate students spend a year in the laboratory learning all aspects of laboratory work. Orla advertises the position, interviews and recruits the students and supervises them throughout the year, having regular meetings with their tutor on their progress. 
Orla is actively involved in outreach and public engagement, providing and preparing material for 'Science of Bones' workshops. She and colleagues from the department of Oncology and Metabolism have gone out into the local community to speak about the work they do, they have also gone into schools to encourage children of all ages into science.
Over the years, Orla has championed the Green Impact initiative throughout the department, recycling, reducing waste and energy consumption, and educating staff and students about sustainability issues. This has won awards in a number of years including a gold award.
A world-class university – a unique student experience
Sheffield is a research university with a global reputation for excellence. We're a member of the Russell Group: one of the 24 leading UK universities for research and teaching.