The Greenhouse Gas Removal Demonstrators programme and CO2RE
Our UK Enhanced Rock Weathering Greenhouse Gas Removal Demonstrator (UK ERW GGR-D) is funded by UKRI via the Biotechnology & Biological Sciences Research Council (BBSRC).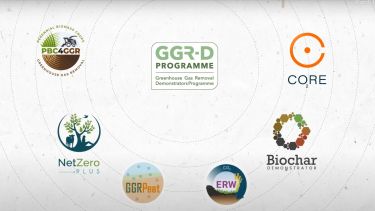 We're one of 5 Demonstrator projects co-ordinated by the CO2RE Hub, as part of the Greenhouse Gas Removal Demonstrator (GGR-D) programme. CO2RE co-ordinates the programme and links to, and between, the Demonstrators. CO2RE is backed by seven institutions and led by the Smith School of Enterprise and the Environment at the University of Oxford. Together, CO2RE (the Greenhouse Gas Removal Hub) and the Demonstrators form the UKRI GGR-D Programme.
The 5 interdisciplinary Demonstrator projects are:
Biochar
Enhanced rock weathering
Peatland restoration
Perennial biomass crops
Woodland creation & management
Watch more on the CO2RE and Demonstrators in this short video:
As well as undertaking its own cross-cutting research, a key role of CO2RE is to provide insights into the cross-cutting challenges that will be faced by the Demonstrators and co-developing evidence of scale and wider acceptability of GGR approaches. The Hub will provide friendly but critical oversight as the Demonstrators advance, which will result in the co-creation of valuable new knowledge as we scale.
Find out more about CO2RE, including its objectives and additional funding opportunities, on the CO2RE website.
Why do we need the GGR-D programme?
To keep global warming to below 2⁰C (the goal set by the Paris Agreement), we will need large-scale carbon dioxide removal technologies to offset any continuing unavoidable greenhouse gas emissions, in order to reach net zero emissions. Even with reducing emissions as far as possible, there could still be some emissions from industry, agriculture and aviation that mean we need to actively remove carbon dioxide from the air to achieve the net zero balance.
At present, the world currently emits around 40 billion tonnes of CO2 every year. In the UK, it is estimated that we will need to capture and store 83-169 million tonnes of CO2 every year by 2050, according to the Climate Change Committee.