UNICUS provides a commercial offering across the University, ranging from cafes & bars to hotels, conferencing, delivered catering and even weddings. All of this and more is a part of the withUS portfolio.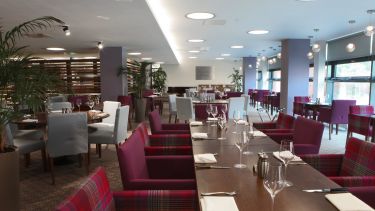 Why you should use our services
UNICUS is wholly-owned by the University and all profits generated are reinvested into the facilities and services offered.
Money/resource is kept within the University group to give a much stronger consolidated financial performance - recirculating resource within the group rather than losing it externally.
By all being within the same VAT group, this means that no VAT is charged on internal University transactions and so again this keeps the money within the University group to recirculate.
About UNICUS
UNICUS is a wholly-owned subsidiary company of the University of Sheffield and was formed in July 2012 as Sheffield Trading Services Ltd, being renamed a year later to become UNICUS Sheffield Ltd. The organisation helps to operate some of the commercial services that are owned by the University and runs some of its own businesses as well.
An external review of the catering services was undertaken in 2009, triggered by the ongoing campus redevelopment strategy and the need to expand the catering offer into several new buildings. This was to create improved social spaces for students and staff to meet, study and relax. With several new openings planned over the coming years, a sustainable way of working was needed, as the forecast revealed a steady decline into a worsening deficit position.
The review offered three options for consideration; in-house, outsourcing or to create a Special Purpose Vehicle (SPV). Following extensive consultation, approval was obtained by University Council in July 2012 and UNICUS was created as a wholly-owned subsidiary company of the University.
---
Our surplus policy
Commercial services and UNICUS finances are ring-fenced, which means that the University does not subsidise our catering, event, conferencing, hotel or restaurant services. Our sales income supports all of our business activities.
As a business UNICUS needs to offer services comparable or better than the high street so that we are chosen for the fantastic quality of offer we are able to produce, our ethical standards and great service. Our benchmarking and auditing are through external providers, aligning our terms and conditions to our sector of Hospitality and Catering, making sure that we have an ongoing programme of improving our services and offers. Our pricing policy is a break-even +10% approach, much lower than external operators who typically return between a 15% - 30% surplus.
UNICUS took a loan from the University to set the business up. Loan repayments start in 2017 and once the loan is repaid any surplus will be reinvested into refurbishments, improvements or new offers, and services for students and staff. The business is governed by a Board of Directors in unpaid positions, one of which is the Students' Union Development Officer. There are no shareholders or dividends paid.
Tendering to external companies
We believe we have an amazing food offer and great staff, so by competitively pricing the external offer, we can achieve a better surplus, all which goes back into supporting staff and student activities. It also creates great work opportunities for students and improves our engagement in the city.
Our Commitments
Gender Pay Gap Report 2021

Following the introduction of gender pay reporting legislation from 2018, the Government requires employers that process a payroll of 250 or more employees (including temporary employees) to publish statutory calculations every year, to provide transparency of the gender pay gap between male and female employees.

UNICUS is a wholly owned subsidiary of The University of Sheffield, and usually processes a monthly payroll for up to 450 staff. UNICUS operates a number of distinct commercial services, including cafes, hotels and hospitality venues within the University campus. However, due to the COVID-19 Pandemic, there has been a large impact on our staffing numbers and the monthly payroll has dropped over the past 12 months to an average of 260 employees. This is due to employing a large number of casual workers.

Mean Percentage Difference 3.31%

Median Percentage Pay Gap Difference 0%

The figures above capture our overall mean and median gender pay gap. This demonstrates that although our figure is significantly below the UK national average percentage there is still a pay gap, which is attributed to the fact that within the organisation UNICUS aims to attract and retain a diverse workforce that reflects the community we work within.

To support this the organisations approach to pay is gender neutral by design - UNICUS pays male and females equally for equal roles.  

However the organisation recognises that for individual senior roles we are market driven to attract and retain the calibre of staff required for these roles and will have to be able to pay competitive salaries. This is distinct from equal pay, which is the difference in pay between males and females doing similar jobs.

Where we employee the largest numbers of staff within equal roles, there is no pay gap with the median hourly pay rate the same for females and males within UNICUS.

Our focus

Within UNICUS, we are committed to creating a workplace that is flexible and truly representative, where each member of staff are respected, supported and able to develop to their full potential. We are committed to rewarding our staff fairly and take action to improve and promote gender equality as part of our re-numeration committee review cycle. Since the COVID-19 pandemic we have had a large proportion of our staff working remotely. We are committed to addressing and continuing to build on the following actions of Hybrid working following on from a survey of staff opinion. We continue to build on our existing flexible working polices, and offer support to working parents and staff that have caring responsibilities for children and adults, through offering flexible contracts of employment, encouraging returners from maternity/ paternity leave and career breaks. Additionally, through our Employee consultative committee (ECC) made up of staff representatives, we are reviewing our current policies and seeking to understand our staff's views and needs.

Living Wage

UNICUS pays the equivalent of the Living Wage. UNICUS strives to be employers of choice and this investment is part of our ongoing commitment to our most valuable asset, our staff; recognising their talents, the great customer service culture they display and the positive way they contribute.

We also recognise that in-work poverty is a very real issue particularly to families and are pleased to be able to reward our staff for the commitment they display.

We also have a policy of reviewing the business annually and where a post is sustainable, we offer contracts so that our reliance on casual staff is kept to a minimum. Our staff are what makes UNICUS stand out from its competitors and it's only right that we invest in them.
UNICUS and WithUS
UNICUS operates a wide range of hospitality services and venues under the brand name 'WithUS', providing healthy and sustainable food and drink options for staff, students and the wider community.