Congratulations to Dr Linda Westman on European Research Council Starting Grant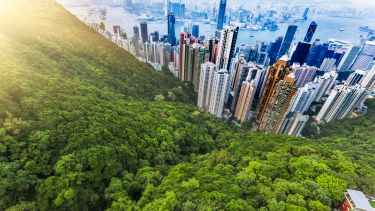 The European Research Council Starting Grants, totalling €636 million in funding, are part of the Horizon Europe programme and are dedicated to supporting younger researchers to develop research ideas which show potential via projects and their own teams. Linda, Senior Research Fellow at the Urban Institute, conducts research at the intersection of climate change governance, urban transformations, and justice. Her publications have explored environmental politics in China and critical perspectives on transitions. Linda's new project funded by the Starting Grant, PLURALIZE, will further explore these areas in one, comprehensive research project.
PLURALIZE recognizes that the imperative of addressing global ecological breakdown is interconnected with the need to deliver social justice. It adopts 'just transitions' as an agenda to deliver far-reaching climate action and protect the most disadvantaged and vulnerable communities from its negative consequences. The concept of 'transitions' captures systemic societal change required to respond to the climate crisis. However, transitions have winners and losers, can exacerbate inequalities, and even create new forms of exclusion. For example, the phase-out of polluting industries tends to cause traumatic effects in regions reliant on these sectors, including through large-scale unemployment, depopulation, and loss of social identity. 'Just transitions' represents the integration of wellbeing and justice dimensions into climate agendas. It signals the need to examine the impacts of reforms undertaken in the name of climate protection, especially the effects on vulnerable and already disadvantaged communities.
China, as the world's second largest economy, largest emitter of greenhouse gases, and leading producer and user of renewable energy, will shape global transition trajectories.
Linda said: "China's national government has adopted ambitious domestic programmes for decarbonisation, for example through the 14th Five Year Plan, so future transitions within China are likely to have deep, social impacts. But despite this, the concept of just transitions has not yet gained traction within China's political system. PLURALIZE will respond to this gap by identifying practices of just transitions that can be applied in China".
PLURALIZE is the first systematic attempt to bring together philosophical principles, historical analysis, contemporary policy, and foreign investment flows to explore just transitions in urban China. In doing so, PLURALIZE seeks reimagine environmental justice theory and contribute toward a new policy toolkit to support just transitions in an era of geopolitical transformation.
The project sits within the UI thematic area of Climate Urbanism.
Flagship institutes
The University's four flagship institutes bring together our key strengths to tackle global issues, turning interdisciplinary and translational research into real-world solutions.