Analysing the structure and behaviour of housing and property markets and their impact on the wider economy.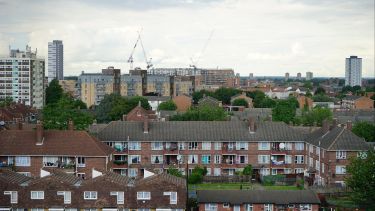 On
Housing and property markets are key drivers of economic activity across the world and have a fundamental bearing on how economies achieve sustainable growth.
We have a strong and active group of staff whose research addresses issues relating to housing supply; the structure of housing markets; housing search; housing policy and housing management; and the behavioural practices of house-builders/developers and estate agents.
Our work on real estate property markets focusses on the calculative practices that shape property markets and affect urban and regional development. We also analyse investors' decision making strategies within and across functionally and geographically diverse local property markets.
---
We are a lead partner in the new UK Collaborative Centre for Housing Evidence. Funded by the Economic and Social Research Council, the Arts and Humanities Research Council and the Joseph Rowntree Foundation, CaCHE is a collaboration between nine UK universities and four non-HE organsations.
CaCHE will seek to advance knowledge of the housing market, provide robust evidence to inform housing policy and practice across the UK, and join together a comprehensive range of stakeholders with the goal of tackling housing problems at a national, devolved, regional and local level.
We lead on the 'Understanding Housing Markets' and 'Housing Aspirations, Choice and Outcomes themes'. We act as a Knowledge Exchange hub for the North of England, working with non-academic partners from across the region to develop shared priorities and to co-produce innovative solutions to local, regional and national housing problems.
We are also responsible for developing the centre's doctoral training and building an Early Career Researcher network.
---
Affordable housing need in Scotland
The availability of affordable housing across the UK is one of the most pressing challenges faced by planners and policy-makers. We recently contributed to a major new assessment of affordable housing need in Scotland, which was commissioned by Shelter Scotland, the Chartered Institute of Housing and the Scottish Federation of Housing Associations.
Our findings proposed what would be the biggest house building programme in Scotland since the 1970s.
Read the Shelter Scotland report
Online housing search and the geography of housing markets
The importance of search behaviour has long been recognised in the study of housing markets. The vast majority of initial housing search queries now take place online and the data this generates provides us with new insights about the geography of housing markets.
In a series of projects funded by the British Academy, the Joseph Rowntree Foundation and the Bank of England, we have been exploring how housing search data can help to inform planning for housing at local, regional and national levels and to understand the links between online housing search and subsequent market volatility or stability.
---
Changing priorities in investor decision-making
Asset selection is undertaken in a complex environment by property investors, with multiple trade-offs necessary due to the different investment attributes represented in each property. Ten years ago investors' concerns about the sustainability of property were low.
With support from the RICS, we are investigating whether investor priorities and behaviours have changed over the past decade and, hence, providing a greater understanding of the factors driving investment preferences.
---
Housing and the realignment of urban socio-spatial contracts
Localism is on the rise in contemporary society. Its resurgence in the UK in recent years is a facet of the 'Big Society' discourse at the heart of the current Conservative Government agenda.
In this paper, John Flint argues that the conceptualisation of the 'Big Society' in England masks a more significant project of redefining socio-spatial contracts – imagined and legal - at national and local scales.
Defining spatial housing submarkets: exploring the case for expert delineated boundaries
There are numerous reasons for real estate analysts to construct spatial housing submarkets. Yet, there is little clarity about how this might best be done in practice. In this paper, Craig Watkins and Berna Keskin ask whether real estate agents themselves might offer an effective but less data intensive method of submarket construction.
Financialisation, the valuation of investment property and the urban built environment
The urban built environment is shaped by a wide range of influences; not least the realm of economics and finance. Examining the calculative practice of property valuation, John Henneberry and Neil Crosby argue that a more historically sensitive interpretation of financialisation is required in order to better understand the impact of finance on built form.
---
We are particularly keen to supervise PhD topics which align with our research priorities - details of potential projects and supervisors are provided below.
Flagship institutes
The University's four flagship institutes bring together our key strengths to tackle global issues, turning interdisciplinary and translational research into real-world solutions.