Collaboration is so important in planning: immersing yourself in other cultures can only enrich you

Jean-Mickael Hopkinson
University of Waterloo, Ontario
MPlan Urban Studies and Planning
Jean-Mickael chose to study at Sheffield so he could spend a year studying abroad and still obtain RTPI accreditation.
Where did you spend your year abroad?
I went to the University of Waterloo in Canada.
Why did you want to study abroad?
I chose the MPlan course at Sheffield because I was able to do the Study Abroad and do an RTPI accredited degree. Studying abroad was so important to me as I believe immersing yourself in other cultures can only enrich you. Furthermore, collaboration is so important in planning and you should not be ignorant of other approaches to planning within different environments.
What were your top three highlights while studying abroad?
Skiing at Marmot Basin in the tiny town that is Jasper, Alberta. The views were breathtaking and, despite the crashes and -20 degrees temperatures, was so much fun to do with our group of international students…all 14 of us!
There were so many moments, from Karaoke bars to simple nights-in, spent with my newfound group of friends. We became very close and I can now say that I have friends in Canada, Ireland, Netherlands, Sweden…and Leeds!
As a petrol-head, I relished in the numerous road trips we took across Canada. My favourite would have to be our drive through Alberta's Icefield Parkway, the only road to Jasper from Banff. What should have been a 3 hour drive took us 7 hours as we stopped at every viewpoint of glaciers, frozen lakes and mountains. The scenery was jaw-dropping, although the drive was a little tense driving through icy conditions with no phone signal through the whole of the Icefield Parkway!
What would you say to someone who was unsure about spending a period abroad?
I would highly recommend speaking to someone who has undertaken a study abroad year, especially if it is at the host university that you are considering. Learn from our mistakes! For example, you can ask them about accommodation. I can share my experience of living off-campus but I could also tell you where the best campus accommodation would be in Waterloo.
Ultimately, it helps to make your plunge to another country less intimidating as you know what to expect. I'd be happy to answer any study abroad queries!
How do you think your year abroad has helped your studies or future career plans?
The study abroad experience has definitely improved my independence and confidence. For example, I gained independence when I organised my own trip to visit Chicago, Detroit and New York and I gained confidence by meeting new people. Both attributes I would argue are so valuable as life skills that influence your studies and future career.
I would also say that my undertaking of modules such as indigenous communities and stormwater management offered new perspectives of planning that I can carry forward in my planning career. The indigenous module taught me the importance of inclusivity and heritage, whilst stormwater management prompted me to think about the effects of snow clearing and associated salts on water pollution, neither of which would have been discussed in Sheffield.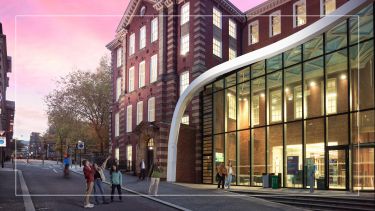 Visit us
Discover what sets Sheffield apart at our undergraduate open days on the Saturday 21 October or Saturday 18 November.