What it means to join our Green Impact Team

Owen Thomas
Owen Thomas
BA Urban Studies
Owen has joined the department's Green Impact Team - helping implement, achieve and promote our sustainability targets while studying BA Urban Studies in Sheffield.
Why did you decide to study USP at Sheffield?
I decided to study Urban Studies from a keen interest in how developments and planning can transform and enhance cities. Therefore, I wanted to contribute and expand my knowledge in this field. The University of Sheffield was an obvious choice due to the world-class reputation the department has. Exceptional standards of teaching paired with lecturers who actively research in the field easily persuaded me, knowing that I would be taught elite, contemporary information. 
What is your favourite thing about your course? Any favourite modules?
My favourite area of my course is learning about conceptual planning theories over time and how they have had an impact on various communities and settlements, like the Garden City Movement from Ebenezer Howard we learnt about in The Making of Urban Places.
What is your favourite thing about Sheffield?
Sheffield is an exciting city with a vast array of activities available, from taking a walk in the Peak District, eating in the various restaurants and cafes on West Street to shopping in Meadowhall or the city centre where the Heart of The City development can be seen.
What are your plans for when you complete your degree? And how do you think your degree will help with career prospects?
Once I complete this course I would like to become a Chartered Town Planner and gain experience in commercial development before hopefully starting my own business in it. This course will help me to gain my chartered status upon completion and also give me the tools I need to become a successful planner.
What advice would you give to new students in the department?
Key advice I would give to new students is to get in a healthy routine from semester one as it will help with well-being and studies.
---
Green Impact
Owen is a member of the USP Green Impact team. The project is all about rewarding positive environmental action within University departments. 
Can you explain a bit about your role in the Green Impact team and what it has involved?  
My role as a Green Impact Project Assistant is to aid the department in achieving, implementing and promoting their various sustainability targets. It's highly manageable with studies, only taking up around 1-2 hours a week. 
I have undertaken a range of tasks including: attending meetings, collaborating with the rest of the team and working on a project, which is Adopt a Plant Day. In this project I was tasked with creating labels for the pots and acquiring some of the plants. Soon I will assist in the planting, organisation and running of the event. Once the project is complete, I will evaluate successes and drawbacks of it with reference to the Sustainable Development Goals. If the project has been a success the members of the team will achieve a national award in sustainability.
From this role I have developed a range of skills such as, communication, team-work, organisation, time-management and experience working on projects.
Why did you decide to get involved with Green Impact?
I decided to apply for the Green Impact Project Assistant role because of the projects' real world influence and impact in the university. It was also an opportunity to gain valuable experience to help with careers and placements. 
---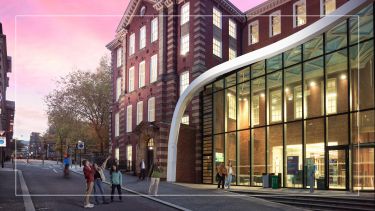 Visit us
Discover what sets Sheffield apart at our undergraduate open days on the Saturday 21 October or Saturday 18 November.