115 years in the making, our story continues to evolve every day, defined not just by our achievements but by the unique character of our people and this remarkable city.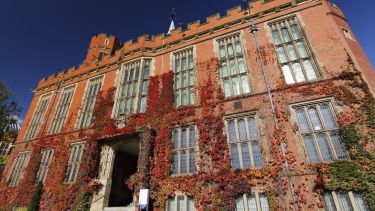 The University of Sheffield has a proud history of discovery, innovation and social change. In 1930, we pioneered the very first medical use of penicillin, while more recently our researchers developed a lifesaving drug for the treatment of ovarian and breast cancer.
Our motto "Rerum Cognoscere Causas" (to discover the causes of things), is as relevant today as when we were founded in 1905. However, the world is now a very different place. As the world has evolved, so have we. As we have grown, so have our ambitions. Now we don't just want to understand the world, we want to change it. We believe in bold action and are unified in the knowledge that we can transform the world we live in for the better.
Today, we are pioneering research into sustainable farming to safeguard the world's food supply, recreating the interiors of the Chernobyl and Fukushima nuclear reactors to aid the clean-up process, and working with the world's biggest social media companies to protect vulnerable users from harmful content.
We're focused on equipping our students for life after Sheffield and our outstanding research-led teaching is empowering the next generation of global citizens. Our students have gone on to be bestselling authors, gold medal-winning Olympians and even groundbreaking astronauts.
We're proud of the difference we've made and continue to make. But we'll never stop exploring new ways to do more.
Our academic thought, research, and creativity energise the world around us. This starts right here in our home city of Sheffield. We care deeply about this place. Its spirit fuels our people. Just like Sheffield, we were forged and shaped by invention. We push, we explore, we innovate, we define. We make things, and we make things happen. It's who we are.
Yet we've always looked to the wider world for inspiration and collaboration, welcoming students and staff from over 140 countries and nurturing research and alumni links across the world. These partnerships not only provide international opportunities for our people but also drive investment locally. This is a global university. Not just in our outlook, not just in our ambition, but in the challenges we tackle every day.
None of this would be possible without our outstanding people, who drive our progress. Their innovation and initiative take the world in new directions: from developing the first new compound to kill antibiotic-resistant superbugs in 50 years, to powering industrial innovation and securing jobs through the Advanced Manufacturing Research Centre. It's our people who are unlocking the potential of the next generation with inspirational teaching and cutting-edge apprenticeships focused on the skills of the future.
The sense of community spirit here at Sheffield is like no other. Our staff and students work together. They support and inspire one another. Our diverse and inclusive community brings together different views, approaches and insights, leading to richer, more creative and innovative teaching and research.
We know that to remain a world-class university we must be a truly inclusive university. This is why our 'One University' ethos is central to our vision.