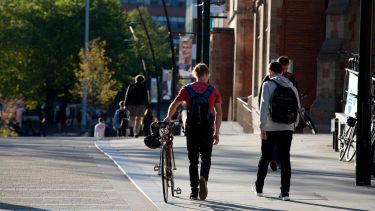 Walking and cycling are good ways to travel across Sheffield and explore the city. Whether you want to get from the student villages or the train station to the main campus – everything is on your doorstep and a short walk or cycle is always a good option. 
Bikes can be rented from the train station or the University and there is plenty of cycle parking available near the University and across the city centre. On campus we have two parking options:
open space, where your bike can be parked up and secured out in the open
secure, where your bike can be locked inside
Whatever sustainable mode of transport you take, make sure you download the BetterPoints app. With this you can collect points each time you walk, cycle or use public transport, more information can be found below.
---
Sheffield has a compact city centre with the University campus and residences within a 30 minute walk of each other. The majority of students choose to walk to campus.
Walking is good for your physical and mental health and it's a great way to explore a new city or discover hidden gems. Most importantly it's free and environmentally friendly.
Not only is the urban environment easy to navigate, Sheffield is known as the Outdoor City, with over 200 parks, woodlands and public gardens in its boundaries. 
---
Cycle safety is important, please be aware that it's the law to:
Have clean, working lights and reflectors
Have bike lights lit at night – white at the front, red at the rear
Cycle security and security services at the University
---
There are over 1,400 cycle parking spaces on campus. Lock your bike to one of them, even if you're just popping in and out of a building.
University cycle parking points
Lockers for cyclists and access to a bike parking cage can be rented through the online store. 
For a free bike check and 'at cost' servicing, please visit our Cycle Hut, this is usually open on Tuesdays and Thursdays and can be found on Badger Lane (off Portobello), next to the Mining Block.
---
The University runs two bike hire schemes, one for students and the other for staff. 
Students can pay a deposit and hire a bike per semester or for a year at the online store. We also run bike sales twice per year. Reconditioned bikes are now available to buy online too.
We run an eBike hire scheme for staff called Try B4U Bike. If you try one and like it you can buy one via our Cycle to Work scheme.
Further information on types of eBike
---
If you're walking, cycling or using public transport why not download the BetterPoints app, track your journeys and earn points that can be converted into rewards.
Coronavirus - campus access
Check our coronavirus information pages for the latest on access to University buildings.